নারী কৃষক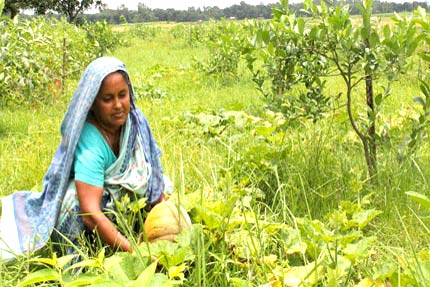 Nayakrishi Women Farmers Rina Begum
FAO Bangladesh sent one woman farmer Ms Rina Begum to FAO Regional office, Thailand on the occasion of the world food day 2015. She is a Nayakrishi farmer from the Delduar Upazilla of Tangail district.
Rina Begum was chosen by the Ministry of Agriculture as one of the best farmer.
Nayakrishi is the practice of biodiversity-based ecological agriculture following 10 simple rules. Because of the ecosystemic approach to agriculture and the use of good and healthy seed maintained and conserved by experienced farmers, pesticide is not required. As a principle Nayakrishi farmers use no biocides. As soil production from the on-farm composting is a regular practice, there is hardly any need for chemical fertiliser. Nayakrishi does not use ground water and do not use seed varieties that waste water. Surface water is used creatively thus pollution of top soil from arsenic and other metals is prevented.
FAO honoured Nayakrishi farmer Rina Begum
Back to album
---