100 years of International Women's Day
Celebrating Women's Struggles
6 – 8 March, 2010
Jointly organized by
Narigrantha Prabartana, UBINIG and Odhikar

EXHIBITION
Venue: Prabartana at 2/8 Sir Syed Road, Muhammedpur, Dhaka
Dates: 6 - 8 March, 2010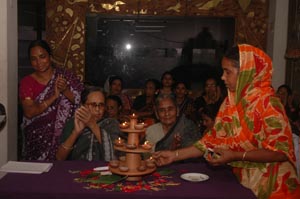 A handloom weaver inaugaurating the exhibition lighting the 'prodeep'. Her representation symbolises the struggle of the working women in the rural areas.
---
A three-day exhibition was held in the 2nd and 3rd floor of Narigrantha Prabartana to show different aspects of women's lives including their livelihoods and creative works. On the 2nd floor, that is the space for Narigrantha Prabartana was used to display books, posters, pamphlets, and other printed materials. The stairs were also decorated with posters collected from various women's organizations and NGOs. Narigrantha Prabartana and Odhikar displayed the publications on women's rights and human rights issues. A photo exhibition was also made on the 2nd floor with pictures of women's movements over the years. Two sarees made by women weavers were displayed where 100 different nakhshi buties were made in one single saree.
Komola Rani Pal, a potter woman came from Rajshahi. Pottery is declining and facing the challenges from plastic made products. Her struggle is not merely the livelihood of her family, but the struggle of the rural women to keep their villages free from the pollution of plastics and other non-degradable products.
---
On the 3rd floor, 14 stalls were decorated with materials from different districts. In one stall Nayakrishi farmers displayed different kinds of seeds, the midwives presented the knotted ropes and papers with lines to count the number of child deliveries they helped, the bamboo basket makers, designed hand fans, potters etc. were displayed. Over 1500 visitors visited the exhibition in three days.
The exhibition was inaugurated by Prof. Latifa Akhand, a renowned women's rights activist, with Prof. Jahanara Huq, Binodini Rema and Sada moner monush Jahanara Begum as special guests. The inauguration was done by lighting candles by the chief guest, special guests and the exhibition participating organizations. The inauguration was dedicated to the memory of Ayesha Akhtar, the organiser and musician of Nabapran Andolon.
---
Click Here To Print
---
---
Comments Must Be Less Than 5000 Charachter