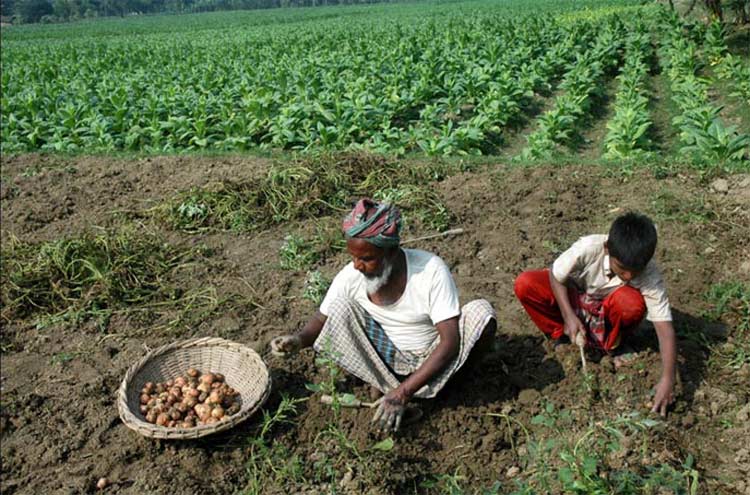 Introduction and research background
Concern about chemical-based modern agriculture and promotion of monoculture crops triggered UBINIG's involvement in research on tobacco cultivation and its impact on food production.. Bangladesh is predominantly an agricultural country with over 70% of its population dependent on farming as a livelihood and about 23% of the national GDP is derived from this sector. Food production is of vital importance, and any threats is a national security concern. UBINIG is running an ecological agricultural movement called Nayakrishi Andolon since 1990 and is working with over 300,000 farming households in 17 districts. In the areas where UBINIG is working, particularly in Kushtia, Chakaria upazila of Cox'sbazar and Bandarban, farmers have experienced expansion of tobacco cultivation. Therefore, UBINIG was approached by farmers to look for strategies for transition out of tobacco.
It was in this context that UBINIG, in collaboration with the Social Analysis System (SAS2) initiative at Carleton University (Canada), approached the International Development Research Centre (IDRC) for support to assess constraints and transitions strategies needed to make a shift from tobacco to food production. The SAS2 is a comprehensive collection of concepts and tools for collaborative research and social action (Chevalier and Buckles, 2008) . The particular approach of SAS2 to participatory research has been an extremely rich methodology and experience for knowing and understanding how a 'crop' causes destruction in multi-directional and multiple ways.
UBINIG had worked previously with IDRC to develop Farmer-based Strategies for Enhancing Community Seed Wealth and Agro biodiversity, a study undertaken from 2000 to 2001. An initial exploration for the farmer-led study on tobacco production problems was then sponsored by UBINIG and the South Asian Network on Food, Ecology and Culture (SANFEC) through a SANFEC Small Awards project from 2003 to 2004. This prepared the ground for two phases of funding support from IDRC beginning in 2005 and continuing to the present day. The work focuses on conducting field based and farmer-led research on shifting out of tobacco to food crops.
This research is mainly carried out by farmers and UBINIG field based workers, particularly those engaged in the Nayakrishi Andolon (New Agriculture movement). They are always active in ensuring food is available through the use of local varieties of crops, and maintaining the diversity of seasonal crops and maintaining the ecological balance by avoiding chemical fertilizers and pesticides and not using ground water for irrigation. The present article is based on the findings of the research.
Tobacco Cultivation in Bangladesh
Tobacco as a plant (Nicotiana tabacum or less widely used Nicotianna rustica) belongs to the Nightshade family indigenous to North and South America. Nightshade is any member of the genus Solanum. It is interesting to note that 'Shade' does not refer to the blockage of light, but actually descends from the German word 'schade' which means destruction or damage (attributed to toxic/fatal effects characteristics of many Solanacea species). The N.tabacum varieties are used for cigarette, cigar, cheroot, bidi, hookah, chewing and snuff tobacco and the varieties of rustica are used only for hookah, chewing and snuff. The plant prefers sandy, well aerated, well-drained soils and cooler climate. Hence it is grown in the winter season.
Whether tobacco should be termed a 'crop' remains a question. Apart from the fact that tobacco is not indigenous to Bangladesh its introduction in the biodiverse agrarian systems in this country can also be criticised as introduction of an 'alien invasive species'. This means non-indigenous species, or "non-native", plants or animals that adversely affect the habitats and bioregions they invade economically, environmentally, and/or ecologically. They disrupt an agro-ecological system by dominating over other cultivated and uncultivated crops essential for life and livelihood of a community.
---
Click Here To Print
---

---
Comments Must Be Less Than 5000 Charachter