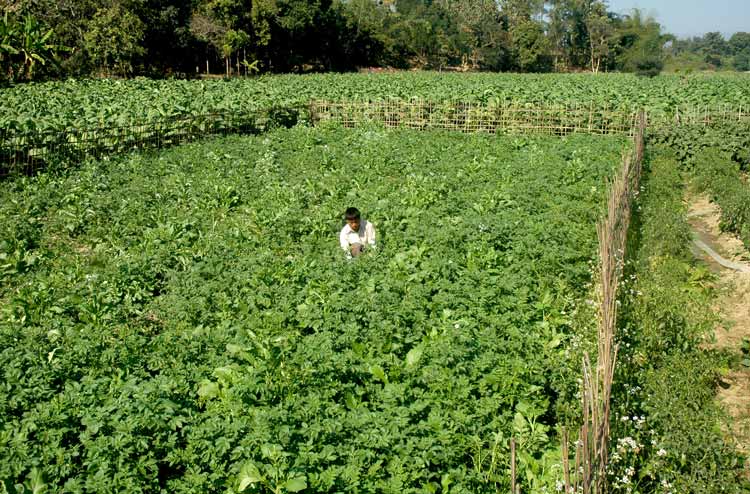 Introduction
Bangladesh must ensure food and nutrition for the people and prevent an alarming increase in non-communicable diseases caused by tobacco consumption and production. In order to achieve that goal, reclaiming all lands occupied by tobacco and immediately shifting to food production and agroecological restoration of damaged landscapes is a priority. As a fertile riverine delta with biodiverse agrarian systems with rich indigenous knowledge of food production
---

A snapshot of Newshour Extra Talkshow (ATN News) broadcasted on February 4, 2017.
WHAT is the role of the ministry of environment and forestry in giving approval to a government project? I wanted to ask the very question to the minister directly in a TV show in which he featured recently. I couldn't get through. So here I am asking the question for his kind attention.
The Newshour Extra Talk show of ATN News on the night of February 4, 2017 invited the honourable minister,
---

Bt Brinjal, the genetically modified brinjal introduced in Bangladesh despite concerns and failures in performances, is imposed again for the third round with newer farmers during 2015 – 2016 winter crop season. No report has been published as research findings of the first two rounds of field cultivation except some propaganda news. The website (both Bengali and English page) of Bangladesh Agricultural Research Institute (BARI) has no information. It only says Bt Begun (Bt Brinjal). T
---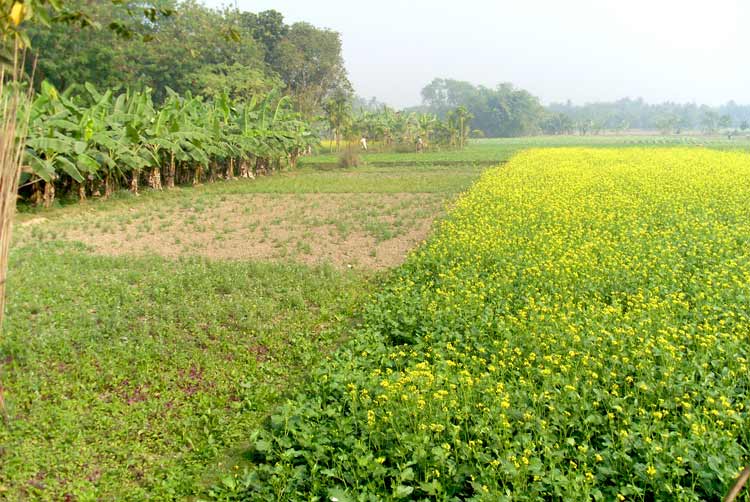 Ecological meaning of 'small and marginal' farmers
We know that 'small and marginal farmers' not only ensure food supply to 150 million people of Bangladesh but contribute to the conservation and regeneration of country's agro-biodiversity and genetic resources. Small and marginal farms also perform various other ecological and environmental services. Farmers are the repository of social memory, wis
---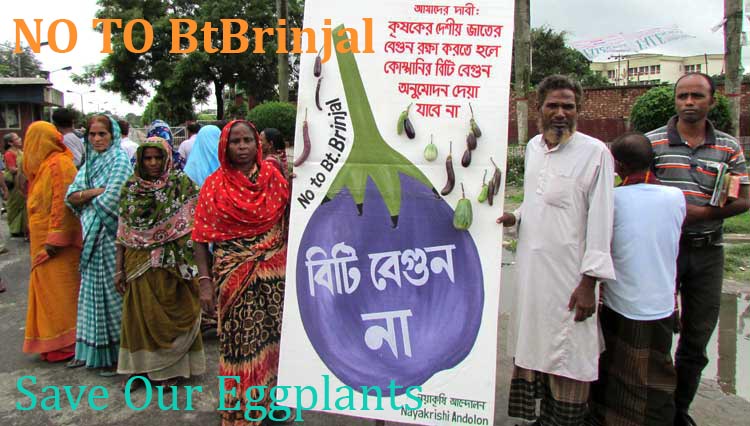 Mark Lynas is amusing. He visited the field of 'Mohammed Rahman', of Krishnopur, Bangladesh and claimed: "but improved seed genetics can make a contribution in all sorts of ways - It can increase disease resistance and drought tolerance, which are especially important as climate change continues to bite; and it can help tackle hidden malnutrition problems like vitamin A deficiency". The claim is quite flowery like the title,
---

A discussion meeting of over two thousand farmers was held on 6 May, 2015 against the aggressive extension of tobacco cultivation in Chakaria Upazila, Cox'sbazar district at Majherparas Bazar, Kakara union at 5pm. The farmers and their representatives shared their sufferings due to oppressive treatment of tobacco companies at the time of procurement of tobacco leaves. On the otherhand, if they grow food crops, the lack of storage facilities for perishable ones, they suffer economic loss
---

On January 8, 2015, Deneb Sumbul, daughter of Najma Sadeque sent an e-mail in the listserve that Najma Sadeque used to use with the subject "My Najma Sadeque no longer with us" . The mail said, "With the greatest sorrow, this is to inform you that my mother, Najma Sadeque passed away last night around 12:30. She was suffering from kidney failure. In how many ways can I describe my wonderful indomitable mother - she wore so many hats - an activist to the last, journalist fo
---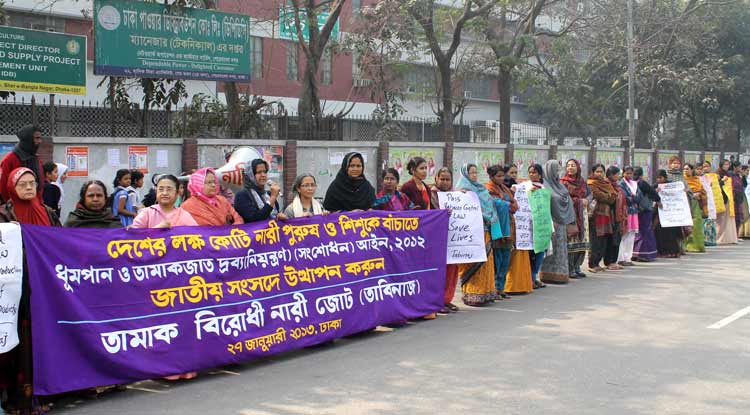 The World Health Organization (WHO) took the lead in 2003 to formulate a global treaty called the WHO Framework Convention on Tobacco Control (FCTC) is an evidence-based treaty that reaffirms the right of all people to the highest standard of health. It was the first treaty that was designed in developing a regulatory strategy to address addictive substance, such as tobacco and that asserted the importance demand reduction strategies as well as supply issues. The FCTC was unanimously adopted
---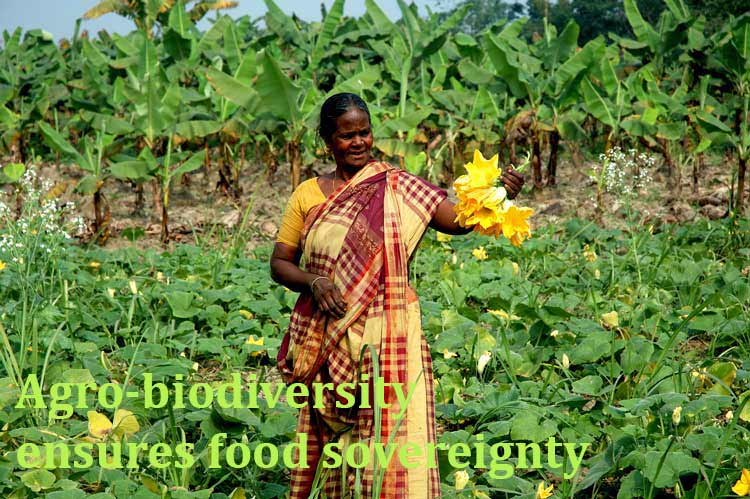 The International Day for Biological Diversity on May 22 is observed to increase understanding and awareness on biological diversity that include ecosystemic variability and indigenous knowledge and/or cultural practices. In December 2000, the UN General Assembly adopted this day to commemorate the adoption of the text of the Convention on 22 May 1992 by the Nairobi Final Act of the Conference for the Adoption of the Agreed Text of the Convention on Biological Diversity (CBD).
In Bangl
---

'Currently most research is invested in new technologies rather than in making better use of existing knowledge. Much more research is needed to turn existing knowledge into practical application.' (WHO 2013)
UBINIG's commitment to biodiversity-based approaches to agriculture, health and nutrition is based on a critical understanding of various technological approaches to solve some
---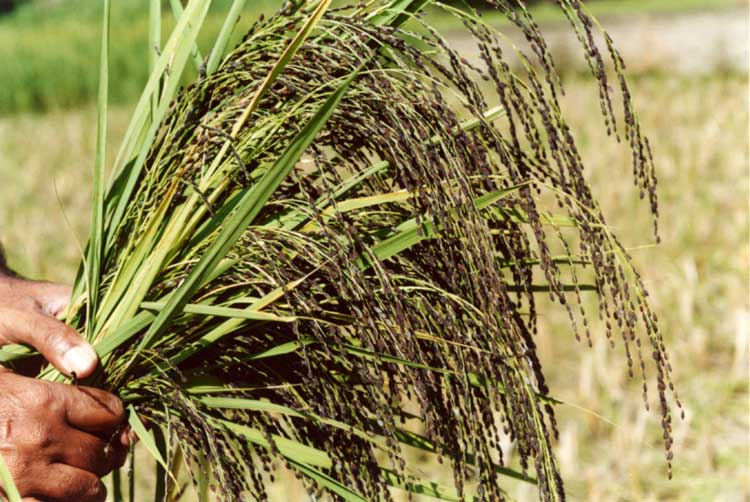 Rice production in Bangladesh is a crucial part of the national economy. The main food crop of the country is rice. Rice cultivation covers about 80 percent of cultivable land and production varies according to seasonal change based on water supply. The largest rice crop is aman, accounting for more than half of annual production. Some traditional varieties of aman rice are sown broadcast in spring on low land. The plants thrive in summer and rainy seasons. The matured crop is harvested in la
---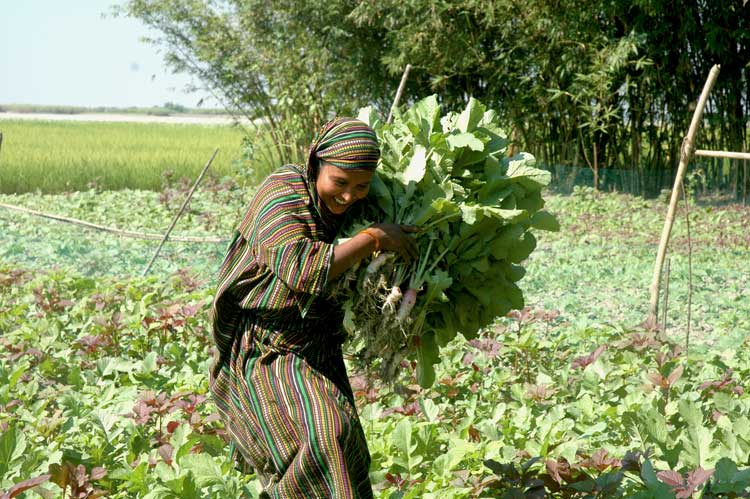 The Nayakrishi farmers at Rajendrapur and adjoining villages in Baraigram upazila of Natore district have been maintaining indigenous genetic resources. They have been maintaining the seeds of local varieties of crops in cultivation. The seeds are maintained on farm as well as in the Nayakrishi Seed Hut at community level. The Nayakrishi initiative aims to ensure the livelihood of the rural community through community based biodiversity management by safeguarding genetic resources and enviro
---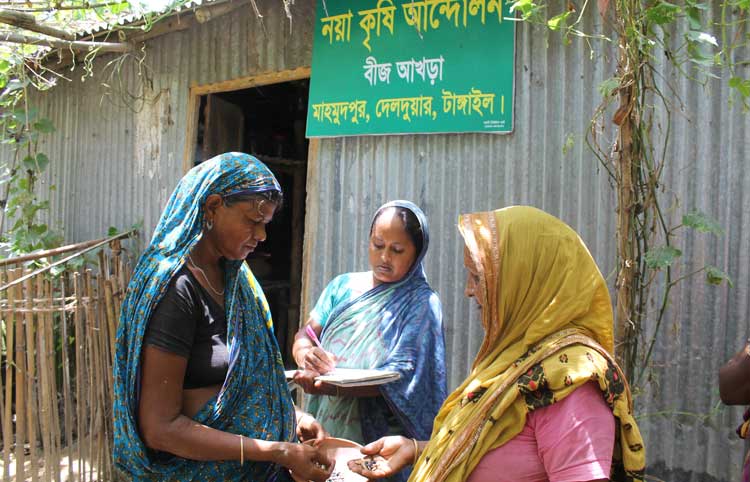 Mamudpur Nayakrishi Seed Hut (NSH) started its journey in 2001. UBINIG has been holding training session, exposure visit, farmer exchange, festival in Mamudpur and adjoining other villages on biodiversity based farming. Rina Begum along with other farmers of Mamudpur village received Nayakrishi (Biodiversity based farming) training conducted by UBING. Since then they have been practicing Nayakrishi. Gradually the other farmers started joining Nayakrishi. These activities have created awarenes
---

Weapon Producer's Concern about Food insecurity in Bangladesh!! Dupont, the producer of weapons and killing chemicals sponsors Global Food Security Index!
On August 10, 2012 a news item came up on various news media wiith headlines such as 'Bangladesh least food secure S Asian Nation' (Bdnews24.com) which was quite disturbing (also see, 'food security situation poor in Bang
---

UBINIG (Policy Research for Development Alternative) and the biodiversity-based farmers' initiative "Nayakrishi Andolon" expressed concern over promotion of technologies that are direct threat to biodiversity and the food sovereignty of the country.
In a discussion meeting titled 'African NERICA rice and Bt. brinjal are threat to bio-diverse
---

Future of farming in Bangladesh depends on the capacity of the government to insist on the priority of detoxicating agriculture and stop further erosion of agroecology and environment.
Rio plus twenty means a decision about our future. Somehow the declaration of the Heads of States and Governments, knick-named as Zero Draft, has the title "The Future We Want". But whose future? The
---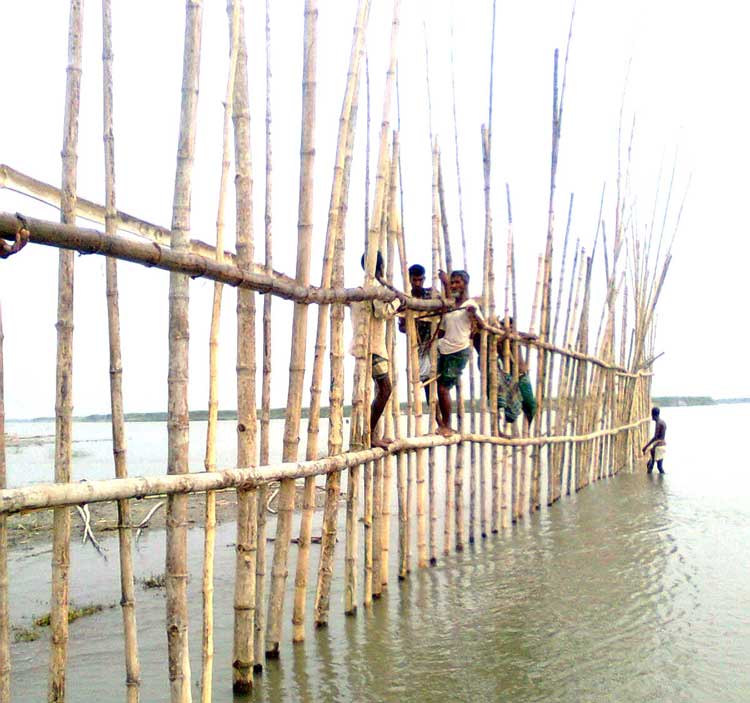 Chatka is made from bamboos to tame river, an effective but simple indigenous innovation of the local community to reduce river erosion that also helps in reclaiming land. The bamboo binding resists soil erosion, turn silt, deposit soil formation and helps accretion of land.
---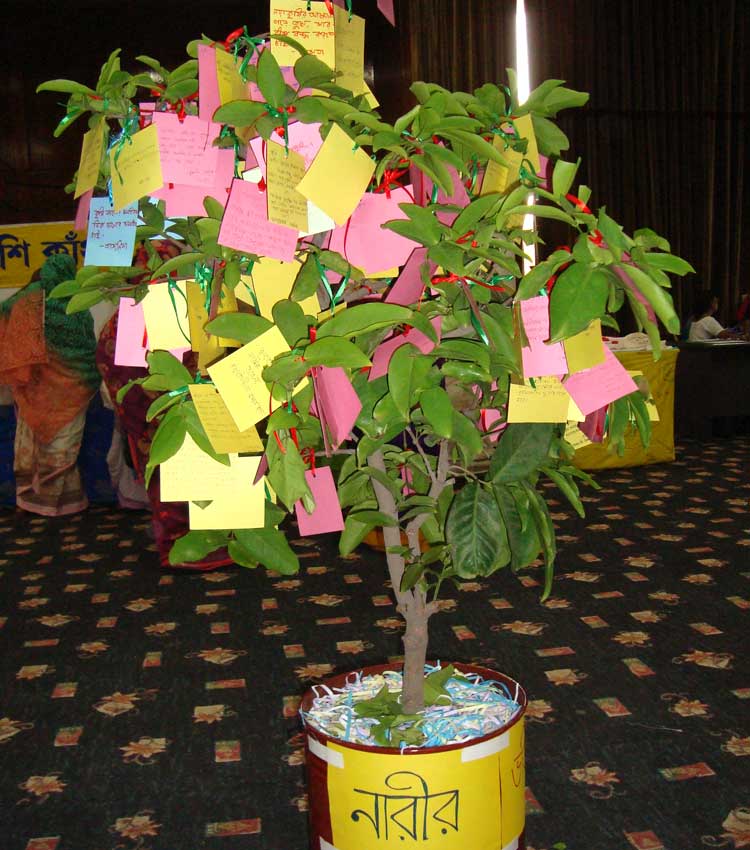 JAMRUL: TheTree Symbolising the Future Women Aspire
Women's Conference and Festival 2012 was organized in the context of developing a perspective about future that women want. JAMRUL, or the Rose Apple (Syzygium samarangense)) Tree - a very sweet juicy fruit tree, favorite to women, came out as the sy
---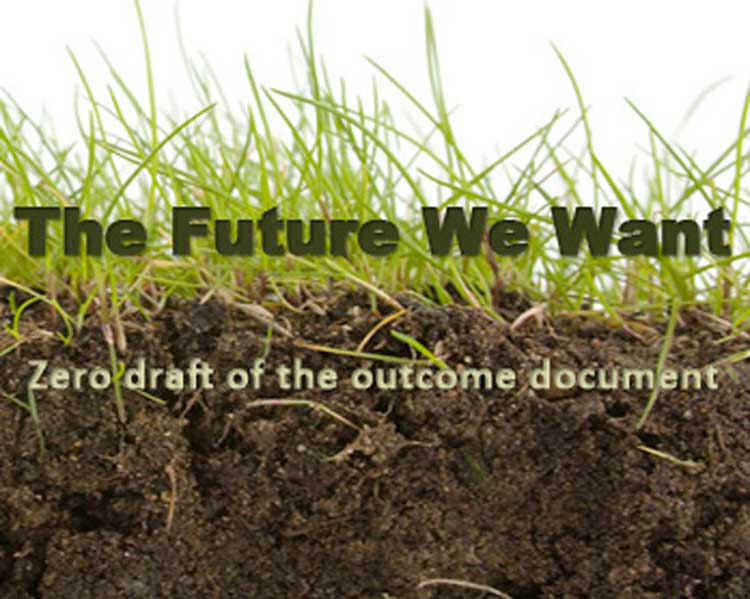 A Critique of the Rio+20 Zero Draft
Twenty years after the Earth Summit, the United Nations Conference on Sustainable Development (UNCSD) will take place in Rio from 20-22 June, 2012. For two decades, peoples movement have worked hard for social, economic and environmental justice but yet the global economic system only resulted in a billion people starving from hunger. The gap b
---

Sale of body parts for overcoming poverty and indebtedness!
In a country where over 40% of the population lives below poverty line and 13% (or 20 million) of the total population suffer from kidney diseases, the link between kidney trade and poverty is not very difficult to establish. The recent incidents of kidney trade, by some unscrupulous 'brokers' bu
---

Dreaming & Mumbling with Numbers
Finance Minister Abul Maal Abdul Muhith made a Power Point presentation of the National Budget for 2010-11 fiscal year in the parliament on June 10, to spend Tk 1,32,170 crore or US$ 19 billion, with a target of 6.7 % GDP growth as against 5.5 percent for the current year. The proposed Budget will have a deficit Tk. 39
---

Say 'No' To Tobacco Cultivation
Kushtia. 30 March. A farmers' meeting in village Boro Gangdia (Union Khalisha Kundi) of Daulatpur upazilla on 30 March, 2010 expressed grave concern over the aggrssive extnsion of tobacco production in the district of Kushtia, threatening serious crisis in food and destruction of environment, ecology, bodiversity and livelihood of local communities. The meeting was organized by UBIN
---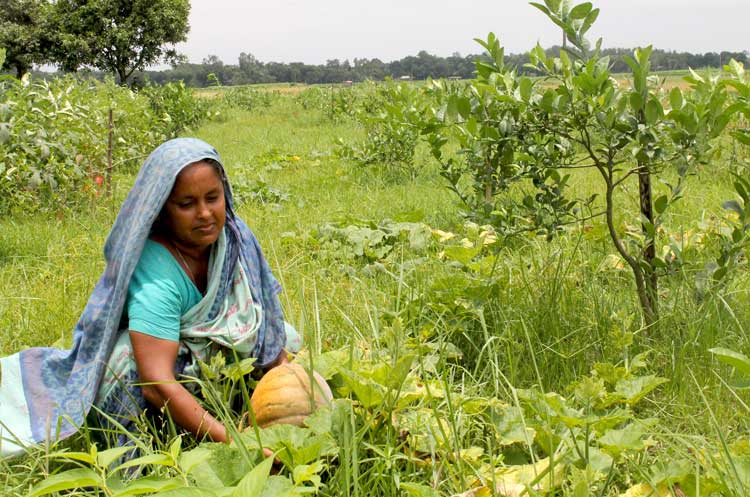 A Nayakrishi Perspective on New Green Deal
Introduction
Global Green New Deal is on the road to make growth look green. How green it is for the southern countries; is an extremely important question. Policy Brief of United Nations Environment Programme (UNEP Marc
---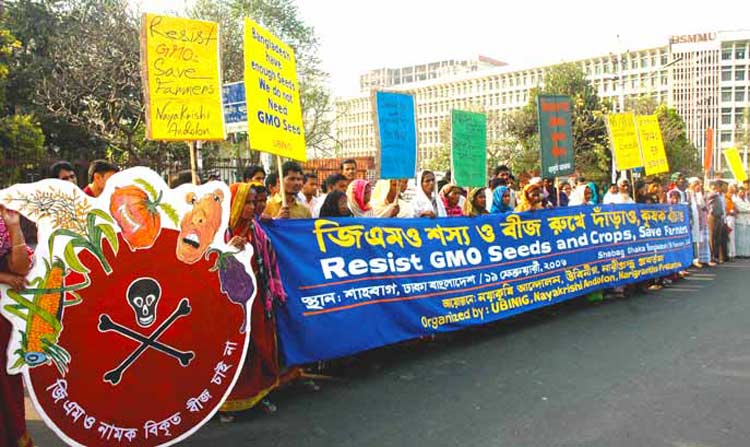 Old game of blaming the poor and women!!
The 2009 edition of The State of World Population has been released just before the 15th Session of United Nations Climate Change Conference of Parties (COP15) to be held in Copenhagen, Denmark during 7 - 18 December, 2009. It shows that climate change is more than an issue of energy efficiency or industrial carbon emissions; it is also an issue of population dynamics, poverty and gender equity. In Banglad
---