Shak: Uncultivated Leafy Greens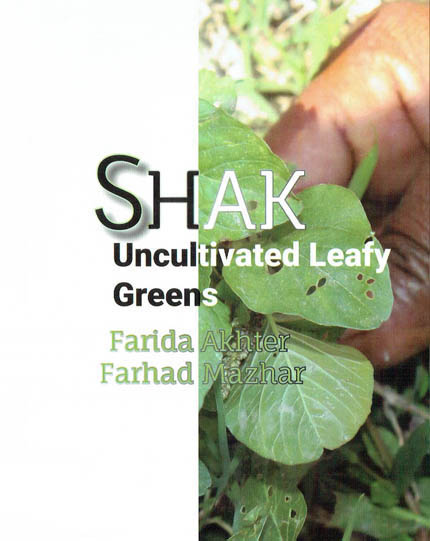 SHAK: UNCULTIVATED LEAFY GREENS; Published by: Narigrantha Prabartana (The Feminist Bookstore) 6/8 Sir Syed Road, Mohammadpur Dhaka-1207,
Shak: Uncultivated Leafy Greens is based on a field-based research with the Nayakrishi farmers conducted by UBINIG.
Efficient management of both the cultivated and the uncultivated spaces to ensure the availability of food, medicine, fodder, biomass, etc. is fundamental in biodiversity-based ecological farming. Uncultivated leafy greens are collected from the surroundings, roadsides, and cultivable fields. Constituting biodiverse agroecological communities is the most effective strategy to defend livelihood, and a resilient culture rich in knowledge practices for harmonious community relations. Protecting life and natural biological resources from poisons, herbicides, pesticides, and industrial and urban wastes is key to achieving food and nutritional security.
Life-affirming and caring values and virtues and the possession of the knowledge of the nutrition and medicinal values of the leafy greens make women natural leaders of Nayakrishi Andolon.
Content:
Introduction/7
What is Shak?/9
What is 'uncultivated' Shak?/11
Shak Names/14
Where the Shaks are Available?/31
Collecting & Picking/36
Cooking/ 40
Fourteen Shaks: Celebration of Chaitra Sangkranti/45
Biodiversity is Life Affirming/50
Important Issues of Uncultivated Shaks/51
Table Contents
Names of Uncultivated Shaks/54
Names of Cultivated Shaks/56
Availability of Uncultivated Shaks/57
Availability of Cultivated Shaks/59
Parts of Uncultivated Shaks Picked/61
Parts of Cultivated Shaks Picked/62
Download PDF
Back to album
---