Victims of Jarda, Sadapata and Gul: Case Study-based information on health hazards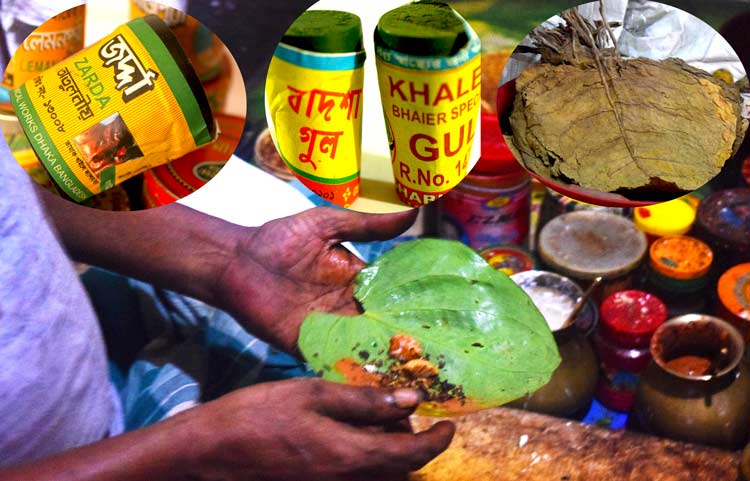 UBINIG || Monday 04 February 2019 || READ BY SUBJECT: Tobacco

It is well-recognized fact through various public health research works, although insufficient, that smokeless tobacco consumption cause certain health hazards. Some smokeless tobacco products, such as Jarda and Sadapata are consumed with betel leaves, known as paan, along with lime and betel nut. This is an open and common practice among men and women. Another common smokeless tobacco is Gul, commonly used as an oral tobacco powder which is rubbed over the gum and teeth. Being a tobacco preparation, jarda, sadapata and gul are addictive in nature and cause harm to the users. As a public health concern, these are also included in the definition of tobacco products in the tobacco control law "Smoking and Tobacco Products Usage (Control) Act, 2005 (Amendment) 2013 and therefore is under the tobacco control efforts of the government. However, there is very little information about the health hazards of the individual users, whom we may call victims as they were not aware of such hazards before they used the product.

Tabinaj as a network of grass-root based women's organizations, has been working on smokeless tobacco and its users. There are now many users who have been reporting about their health problems and have sought treatment for such hazards. In this report, information about 36 users are presented who have been considered as "victims'' and they have been under treatment of doctors with known health hazards related to use of jarda, sadapata (33) and gul (3). The information were collected through case studies in three divisional city meetings held in Barisal, Khulna and Chittagong with the users. The victims were from different upazillas under respective districts.

Profile of the victims
District
Upazilla
Name

Age
Occupation
Tobacco
# years using SLT
Health problem
Barisal
Bakerganj
Kuri Banu
50
Housewife
Sadapata
10
Mouth Scar
Shibpur
Shahana
40
Housewife
Jarda (Zafrani)
11
Chest pain, repugnance, mouth scar
Bakerganj
Renu Begum
40
Housewife
Jarda (Zafrani)
5
Throat pain, mouth scar
Ujerpur
Sakhina Begum
60
Housewife
Sadapata
11
Respiration problem, chest pain , mouth scar
Bakerganj
Ayesha Begum
30
Housewife
Jarda (Dhaka Jarda)
10
Mouth scar, chest pain, throat pain
Bakerganj
Maria Gomez
50
Housewife
Jarda (Zafrani)
3
Throat pain, mouth scar

Shibpur, Dokhen Dighir par

Bakerganj
Parul Gomez
34
Housewife
Jarda (Zafrani)
11
Jaw pain, lip scar, mouth scar
Bakerganj
Moni de Rozario
41
Housewife

Jarda (Jafrani),

Sadapata

11
Throat pain, tumor, cancer
Bakerganj
Agnes de Rozario
60
Housewife
Jarda,

(Hakimpuri,

Dhaka jarda), Sadapata

11
Body ache, back pain, respiration problem
Chittagong
Patharghata
Lokkhi Das
36
Housemaid
Jarda (Shova, Nurani)
11
Swollen gum, chest pain
Patharghata
Taslima Begum
40
Clinic Cleaner (Aya)
Jarda (Nurani, Shova & Red leaf),

Sadapata

17
Toothache, chest pain
Patharghata
Farjana Begum
30
RMG worker
Jarda (Nurani, Baba & Red leaf)
11
Burning feeling in chest, kidney pain, blurred vision
Patharghata
Morium Begum
57
Housewife

Jarda (Akij, Nurani &

Red leaf),

Sadapata

35
Mouth scar, chest pain
Patharghata
Minu Mollika
50
Tailoring

Jarda (Shova, Akij & Nurani)
20
Chest pain, Diabetes, numbness in hand
Agrabad
Hasna Banu
75
Housewife
Sadapata
60
Mouth scar, headache
Patharghata
Mostafa Khatun
60
Housewife
Jarda (Shova, Red leaf, Baba, Akij)
20
Burning feeling in mouth, mouth scar
Agrabad
Jamuna Khatun
30
Housewife
Jarda (Shova, Red leaf)
11
Pain in abdomen up to anus
Patharghata
Hasina Begum
35
Housewife
Jarda (Shova, Red leaf)
10
Toothache
Patharghata
Peyara Begum
55
Housewife
Jarda (Shova)
10
Toothache,
Patharghata
Niyati Das
70
Housewife
Jarda (Shova, Red leaf), Sadapata
30
Swollen gum, chest pain, Toothache,
Patharghata
Shova Dev
40
Housewife
Jarda (Shova, Red leaf),

Sadapata

23
Mouth scar, Gastric, Throat pain
Khulna
Doulatpur
Rahima Begum
55
Housewife

Jarda, Sadapata
5
Mouth scar, Toothache
Arong ghata
Rabeya Begum
50
Housewife
Jarda,

(Mujahid)

Sadapata

5

Lack of appetite,

burning feeling in chest

Arong ghata
Kolpona Sheel
60
Housewife
Sadapata
11
Noduler growth inside mouth
Arong ghata
Marjina Begum
55
Housewife
Jarda (Shova)
11
Toothache, Mouth scar,
Khalishpur
Parvin Begum
35
Housewife
Gul
11
Mouth scar,
Arong ghata
Lina Begum
45
Rice Mill worker
Jarda (Monipuri)
5
Toothache,

Swollen gum,

Arong ghata
Rina Mondol
25
Housewife
Jarda (Shova), Sadapata
5

Mouth scar,

chest pain

Batiya ghata
Jhumur Mondol
35
Housewife
Jarda (Laboni), Sadapata
11
Throat pain
Batiya ghata
Minoti Mondol
54
Housewife
Gul
11
Burning feeling in teeth,
Batiya ghata
Iraboti Mondol
35
Housewife
Jarda (Shova)
11
lip scar,
Haji Foez Uddin Road
Aleya Begum
55
Housewife
Gul
11

Respiration problem

Mohosin moor
Hira Begum
27

Tailoring

Jarda (Monipuri)
3
Chest pain
Batiya ghata
Momota Mondol
36
Tailoring
Jarda
11
Respiration problem, Leg pain
Arong ghata
Taslima Begum
55
Housewife
Jarda (Shurovi)
11
Mouth scar,
Batiya ghata
Purnima Mondol
51
Tailoring
Jarda (Shova), Gul
11
Pain in mouth, Lack of sleep, Chest pain
The victims are mostly housewives (28) and working women (8) belonging to poor and lower middle income group. The working women are housemaid, rice mill worker, tailoring, clinic cleaner (Aya) etc. They are in the age group between 30 to 70 years . Most of them (25) have been using jarda, sadapata and gul for over 11 years. They have been using several brands of Jarda namely Shova, Shurovi, Monipuri, Laboni, Mujahid, Red leaf, Baba, Akij, Nurani, Hakimpuri, Jafrani, and Dhaka Jarda. These users have been suffering from various oral and mouth health problems, tooth and gum problems, chest pain, respiratory problems, stomach and gastro ailments and several NCDs such as Diabetes, kidney, cancer.
Analysis of the findings
In three divisional cities of Chittagong, Barisal and Khulna, 36 victims were identified who have been diagnosed with several diseases that were caused by the use of smokeless products such as Jarda, sadapata and gul. Out of these victims only three were found as Gul users, the rest 33 were Jarda and sadapata users. Out of 33 Jarda-Sadapata users who use as pan as means, 17 were using only Jarda, 11 were using jarda-sadapata together. Only 4 were using Sadapata and no jarda. So among the 33 victims of Jarda and sadapata users, it was mostly Jarda (47%) and Jarda-Sadapata (30%) users.
The duration of the use of Jarda and Sadapata was over 11 years for 25 users (69%)and only 7 were using less than 5 years. The victims were suffering from various health problems that were found under three distinct categories. These were, a. Oral and mouth problems b. throat and abdomen problems, c. other body parts.
Oral and mouth problems
In Barisal, mouth scar, irritation with spicy food, mouth and lip sore, repugnance in food were reported. In Chittagong the complaints were more. The victims narrated problems of swollen gums, pain inside the mouth, irritation in the mouth, tooth decay, swollen eyes, watery eyes. In Khulna, the victims reported health complaints of respiratory problems, repugnance in food, swollen gums, irritation in teeth, bad breaths.
Throat & Gastro-intestinal problems
In Barisal, the victims reported of stomach pains, abdominal bumps, feeling of full stomach, esophagus scars. The victims suffered from various throat and esophagus irritations. The voice is also affected by Jarda consumption.
---
In Chittagong, the complaints included stomach pain, respiratory problems, swollen throat, hoarseness of voice in early morning.
---
In Khulna, the complaints included liver disease, chest pain and throat pain.
---
NCDs and other diseases
Several non-communicable diseases were reported by the victims. In Barisal hypertension and cancer was reported. In Chittagong, cardiac problems and diabetes were reported. In Khulna, diabetes, hypertension, cardiac problems and kidney disease were reported.
The victims are mainly poor women who have not received much treatment for their health problems. However, when the disease was beyond control they had to take some treatment and incur cost. Sixteen (44%) out of 36 victims spent over Tk. 10,000 – 20,000 for treatment since the disease was diagnosed but still could not recover, while 20 (55%) out of 33 victims spent less than Tk. 5000 for their treatment.
They used mostly government hospitals, 31 (86%) out of 36, only 5 victims went to private clinics. However, they did not recover from the health problems. Those having oral and mouth problems, only 1 out of 21 victims recovered, while all 10 victims having throat and gastro-intestinal problems did not recover at all. This indicates neither the government nor the private clinics are equipped with dealing with health problems, particularly oral and mouth diseases and throat and gastro-intestinal, caused by smokeless tobacco consumption.
UBINIG, January, 2019
---
Click Here To Print
---
---
Comments Must Be Less Than 5000 Charachter