Communities affirm Dai's contribution for maternal health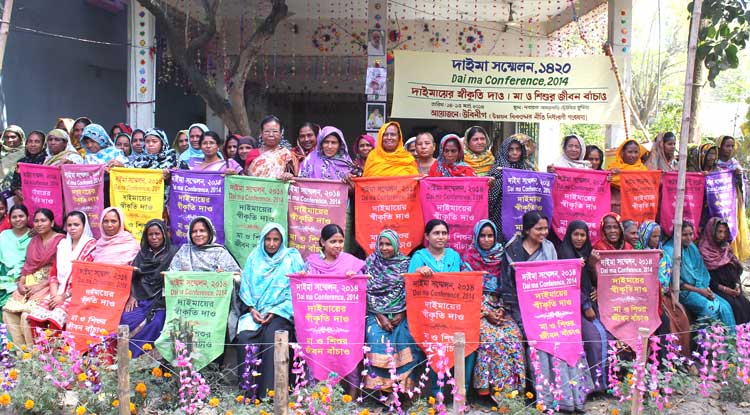 Palash Baral || Thursday 20 March 2014 || READ BY SUBJECT: Maternal & Child Health

Dais (Traditional Birth Attendants)) have renewed their commitment towards their responsibilities to ensure care for mother and child health in their respective communities. Dai representatives from 22 Upazilas in 14 districts gathered in Kushtia prior to Lalon Dol Festival to attend in Dai Conference 2014. It was a two day long conference and over 200 Dais and people from different social groups joined there.

Dr. Md. Mustafizur Rahman, the Civil Surgeon of Kushtia inaugurated Dai Conference 2014. The Civil Surgeon expressed his high satisfaction for the extra-ordinary role of Dais in the community.. He said, the nation also acknowledged their role long before and despite , all other services provided in the modern health facilities, still 83-87% pregnant women take Dai's service for safe delivery of children.

In the conference, the Dai representatives from 14 districts described their performance and role they accomplish not for any money but as humanitarian service.Despite all social and cultural difficulties, they perform their roles as needed. But they never ask any fees or honorarium. However, people give them clothes (sarees) or any gift as they wish.

The knowledge and skill is achieved by their own through experiences. They have learnt from their nearest family members like mother-in-law, grand-mother, mother or neighbor. Most of them have never been to a school. . But that did not become any hindrance towards learning the skills of child delivery, and they are committed and obliged with their roles and responsibilities.

The Dais are well aware about the high maternal and child mortality rate. To respond to these two important issues, they are serving for ante-natal and post natal care, safe delivery and the service for the newborn babies.

In the conference the Dais narrated their experiences how they are working hard to contribute towards reduction of maternal and child mortality rate. AS they learn about the national statistics, they feel sad and want to do as much as they can to reduce it. . They explained reduction of maternal and child mortality involves several factors including ante and post natal care, regular access to Government Health Delivery Systems, food and nutrition and most importantly a supportive family relation.

The Dais appealed for training and information sharing. They urged government to include them in the mainstream of Maternal and Child Health (MCH) Program and to give them opportunity to contribute. They demanded recognition.
---
Click Here To Print
---
---
Comments Must Be Less Than 5000 Charachter