Dai ghor was inundated causing difficulties for services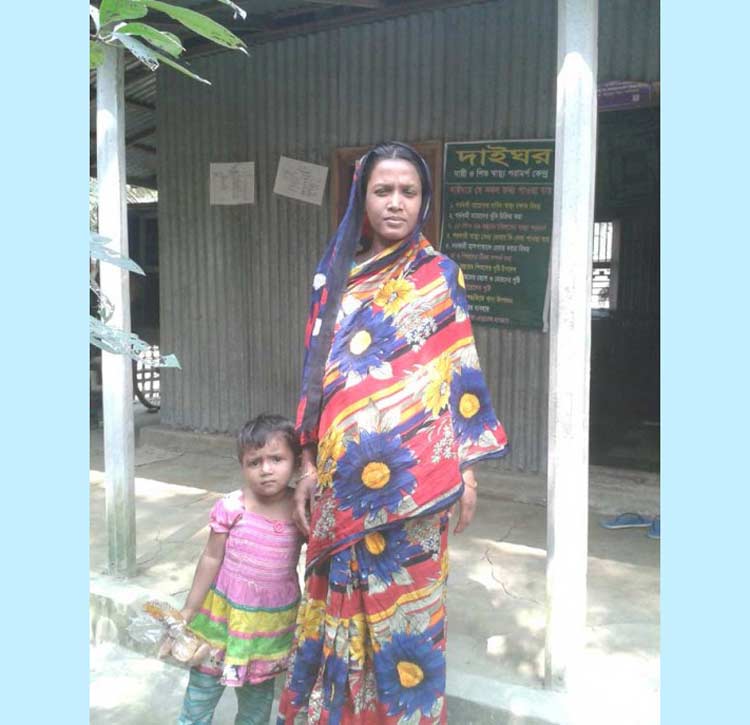 UBINIG || Friday 26 February 2016 || READ BY SUBJECT: Maternal & Child Health

Pregnant mother Hadisa begum. Happy to get service from Dai ghor

Emergency Support to Flood Affected People. Period: August December 2015; Supported By: Primate's World Relief & Development Fund

Hadisa Begum (24), wife of Amin Uddin (32), village: Demushiapara, union: Badarkhali, Upazila: chakaria, district: Cox'sbazar is a flood victim. She was married five years ago. She had a daughter aged three years four months. She was pregnant for eight months.

Hadisa Begum mentioned, 'All the houses and roads in Demushiapara village were inundated 3-4 feet of water in June-July 2015 flood. 'I was three months pregnant when the flood came. There was chest deep water inside my house. I had put 6/7 bricks under my cot and lived there with untold sufferings. I performed all the household activities under these un-comfortable conditions even though I was three months pregnant. The conditions were so uncomfortable but no body could be contacted'.

There was huge water in the Daighor that time. I had asked my husband to see the condition of the Daighor. I was very unhappy to know that the Daighor was inundated. This is because my first daughter was born after two months of the establishment of the Daighor (Year 2013). Daima Ansara Begum is my aunt, who took me to the Daighor for checking my weight and blood pressure. Then onward I regularly visited the Daighor. I was three months pregnant when the flood water came first. I became anxious on the news that Daighor was inundated due to flood. Where I can go if I have any problem in this time? It was difficult to establish contact with any Daima. My name was enlisted in the Daighor register. I was deeply concerned to think of the worst situation if the daigher is not maintained in place. Where the poor woman like me will go? We have to incur an expenditure of BDT 100/200 for any problem to go to either Badarkhali or Chakaria. My husband is a daily wage earner. We do not lave cask money in hand, all the time.

I used to visit the Daighor every day after the flood water had receded to see whether it was repaired. I was very happy to see one day that the Daighor was repaired. This is because the Daighor is my safe place for emergency help and support. I run to the Daighor for any problem and take advice from the Daimas. I got my check up three times after the Daighor was repaired.

I was also happy to see that the van ambulance was also repaired. This van ambulance is a secured means of transport an emergency when no other vehicle is available'.

Daighor is a common meeting place for the pregnant mothers. Mutual greetings and sharing of experiences among the expecting mothers curate a sence of strength. On behalf of the people of my village, I earnestly pray for further improvement of the daighor, day by day. We long for brighter days for the posterity.
---
Click Here To Print
---
---
Comments Must Be Less Than 5000 Charachter