Diabetes: Poor people do not know and cannot afford treatment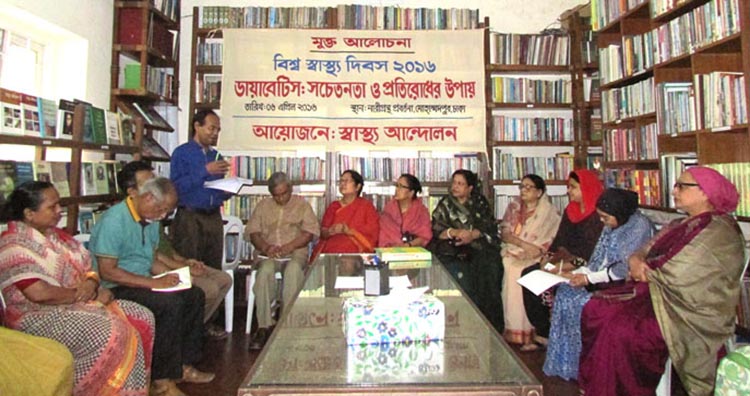 Palash Baral || Saturday 09 April 2016 || READ BY SUBJECT: Health & Health Policy

Beat Diabetes – is the slogan of WHO (World Health Organization) to observe World Health Day this year (2016) on 7th April.

Shayshtha Andolon (Health Movement) organized an open discussion session on 6th April at Narigrantha Prabartana (Women Resource Center) in Mohammadpur, Dhaka. Over 40 participants from different professions including garment workers, health activists, women leaders, researchers, development organizations, members of Women Resource Center attended the discussion. The issue was "Raise Consciousness and Prevent Diabetes".

Dr. M A Sobhan, Chair, BeezBistar Foundation, presided over and Palash Baral, member, Shaysthya Andolon moderated the session.

In the beginning of the session the moderator informed the participants that in Bangladesh and other developing countries (low and middle income countries), diabetes is emerging as an epidemic disease. Total 38.20 crore people around the world are now diabetes affected. In Bangladesh 1 in every 10 people are diabetes affected. But Bangladesh is not ready to face the challenge. Diabetes is a non-communicable disease like heart disease, hypertension, kidney disease and cancer. A recent study shows that in Bangladesh 60% among the total causality is because of non-communicable disease.

In last 20 years diabetes patients are increasing day by day. The urban people are more sufferers than rural people.

Dr. M A Sobhan in his opening remarks spoke about the relation between food and diabetes. He also addressed the food production systems in Bangladesh. He said, in the name of "Grow More Food" we have shifted from healthy food to grow unhealthy and junk food, which is a major cause of NCDs specially Diabetes. Most of the people in the country are familiar with BRRI (Bangladesh Rice Research Institute) rice and specially BRRI 28 and 29 consumed by many people. But the glycemic index, which is responsible for diabetes is very high in these varieties. He added, not only BRRI 28 and 29 many other BRRI released varieties are highly glycemic index. Similarly, the fast food, processed food, soft drinks are also responsible for diabetes.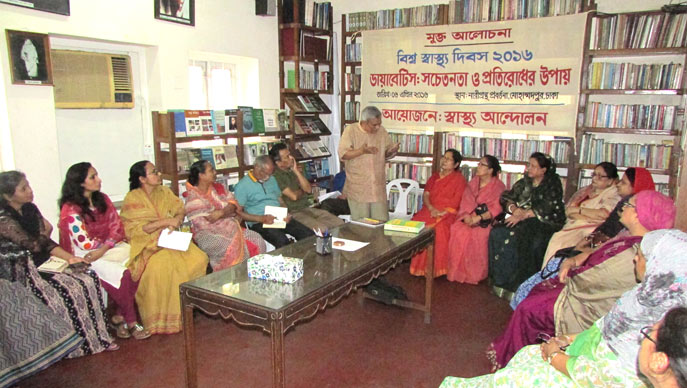 Dr. M A Sobhan urged the participants to change the food habit, life style and to encourage others to do the same.
Rokeya Begum, a member of Shasthya Andolon, spoke about her recent experience while she was interacting with some diabetes patients. She found that most of patients in most of Diabetes Centers are from marginal, poor and lower income group. A diabetes patient needs at least 2000-6000 Taka per month for medicine and pathological tests. But most of the patients cannot afford it and their sufferings are increasing. Many patients remain with incomplete treatment.
On behalf of Shawdhin Bangla Garment Sramik Federation (Free Bangla Garment Workers Federation), Arfin Akhter informed that more than 20 lakh garment workers are engaged in the garment sector in Bangladesh. But most of the workers even do not know whether she/he is Diabetes as they never test such diseases. She added, not only diabetes, they do not know about her/his health and cannot keep control over their health and body. If any worker feels sick, she/he is given a short rest and simple medicine like paracetamol.
Arfin Akhter said that the situation should be changed. The Government and owners of the factories should address the health issue of garment workers and let them know about their health conditions and should provide proper treatment.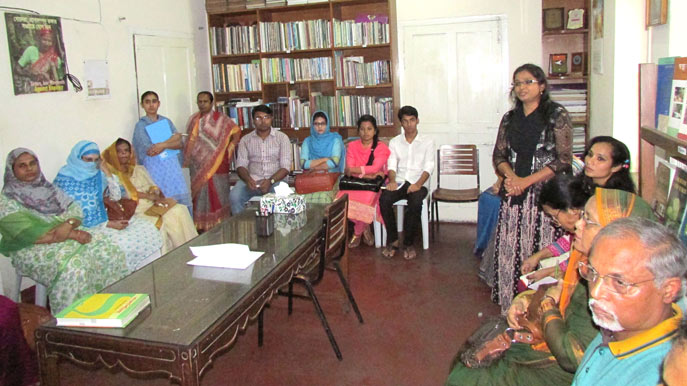 Shima Das, health researcher, mainly addressed the food and life style. She discussed the relation between life style, food and diabetes. Shima Das shared her experience working with both rural and urban people. She added that rural people still in better condition compared to urban people because they physically more active. The food habit and life style of rural people are different. Urbanization and fast and stressed busy life style is also a reason of diabetes.
Most of the participants took part in the discussion and they expressed their interest with the initiative and valuable information. They assured that they will try to change their food habit and to encourage others. More information is needed.
As for voices of the people, particularly those who cannot afford regular checkup and ensure treatment diabetes may lead to other health problems such as losing eye sight, kidney problems etc. So early detection is a necessity.
---
Click Here To Print
---
---
Comments Must Be Less Than 5000 Charachter