Awareness, knowledge and capacity building on establishing Community Seed Banks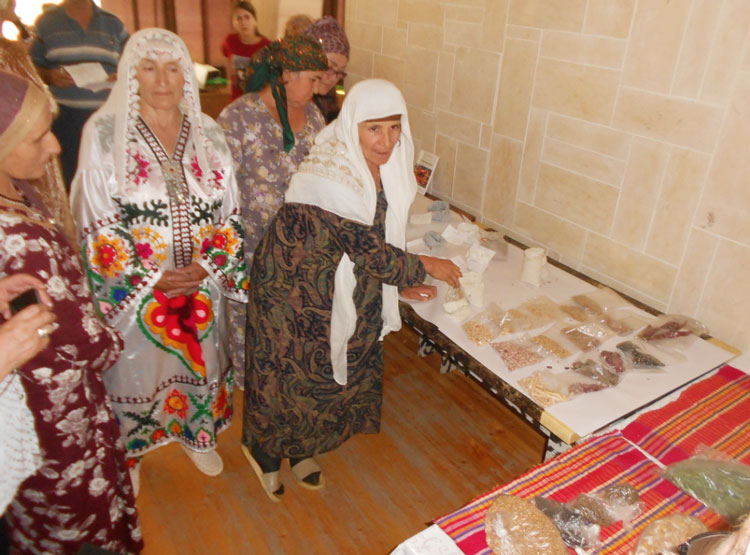 Farida Akhter || Thursday 08 August 2019 || READ BY SUBJECT: Biodiversity, Knowledge and Culture

A training workshop was organised by Zan va Zamin (Women and Earth) and National Republican Centre of Genetic Resources of The Tajik academy of Agricultural Sciences, Tajikistan on awareness, knowledge and capacity building on establishing community seed banks during 21-24 June, 2019 at Sanatorium Shaambari-Saturn, Tajikistan. (Please read full Report in pdf file)

Zan va Zamin is a public organization in Tajikistan operating since 1999 working to guarantee access to the land for the women in rural areas and on preservation of traditional knowledge and agro-biodiversity in the communities of the mountainous region of Tajikistan.

Tajikistan is a newly independent country from the Soviet Union. As a mountain region with its peculiar geographical and climatic situation, Tajik farmers have been engaged in gardening, growing vegetables, legumes and wheat. However, it has the continuation of the effects of Soviet agricultural policy of monoculture cotton production, centralized seed system in the large collective and state farms. After the collapse of Soviet Union, the collective and state farms were reorganized and farmers have got the land. But due to intensive use of different hybrid and varieties seeds and after the civil war, the humanitarian aid with imported cereals led to the disappearances of the local variety wheat, fruits and vegetables. More importantly traditional knowledge on biodiversity, as well as seed-based community of the people accumulated for centuries began to disappear. Many valuable local varieties, as well as their wild relatives have been included into the endangered species list in the country. For restoration and rehabilitation of traditional forms of agriculture, as the local varieties of agricultural products it is crucial to form and develop new system of seed growing that is based on the community.

The support to farmers with seed materials such as hybrid wheat and potatoes imported from abroad by many international organizations played a negative role among the farmers creating a dependence and lack of interest for preparing seeds and store them for future planting. In this context "Zan va Zamin" has been working with the local communities of mountain areas of Tajikistan - Khovaling, Muminobod and Shurobod to conserve agricultural biodiversity of fruit crops, mainly agro-biodiversity conservation of local varieties of apples with the support of the Christensen Fund.

Mukhabbat Mamdalieva, the leader NGO "Zan va Zamin" ("Women and Earth") has been trying to create a seed bank at the community level in the most distant mountain villages in Tajikistan for last 2 – 3 years. They managed to find several varieties of vegetables, leguminous and other crops among the community members, as well as the custodians of agro-biodiversity. With their help, they would like to create a network of custodians of seeds of agro-biodiversity and also create a seed bank based on community. Farida Akhter of UBINIG was able to take the task of being the trainer in this training workshop.

In the situation of the need for preserving the local variety seeds at the community level, farmers in many developing countries have taken initiatives to network and to build community-based informal seed preservation centres. Over a period of last 30 years, community seed banks have developed for conservation, restoration, revitalization, strengthening and improving the local seeds systems mostly based on local variety seeds. These are found in Africa, Latin America and in Asia mostly in South Asia. They are known by different names such as community gene bank, farmer seed house, seed hut, community seed wealth center, community seed conserve, seed library and community seed bank.

Every country having community seed banks (or whatever names they call) have a concept and have to follow certain principles in establishing, operating and managing of the Community Seed Banks. These are linked to the farmers cropping pattern, their needs for sharing and exchanging of seeds and to regain the lost varieties.
---
Click Here To Print
---

---
Comments Must Be Less Than 5000 Charachter