Bt. Brinjal: Forced cultivation and poor performance!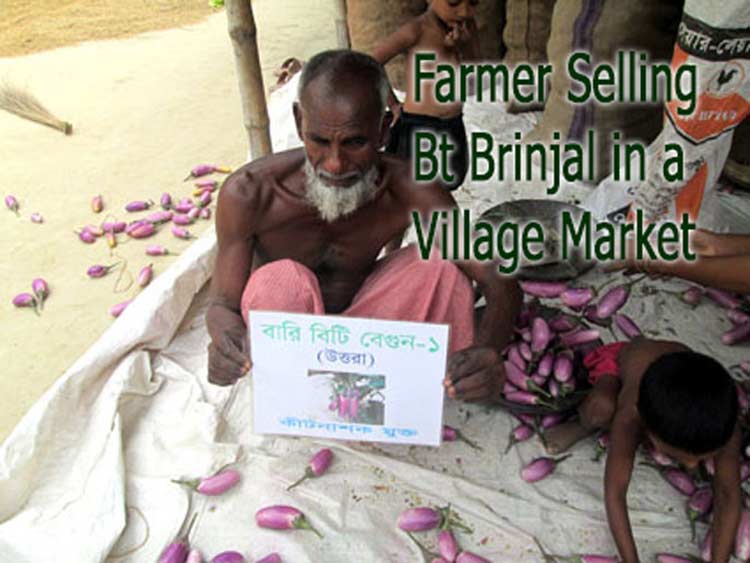 UBINIG || Monday 16 March 2015 || READ BY SUBJECT: Btbrinjal & Corporate Politics

Bangladesh is one of the unfortunate countries in Asia, where GM food crops are being forced for introduction without properly following the precautionery principle to protect biological environment and health and proper rules as laid down by international obligations and domestic bindings, particularly related to Biosafety. Genetically modified Bt. Brinjal is one such crop which is a very common vegetable across class, culture and geographical location, and also known to be in the centre of origin, yet the government has approved it for field cultivation in October, 2013 through the national gene bank run by Bangladesh Agricultural Research Institute (BARI). Despite concerns raised by various farmers groups and environmental groups, the first trial of Bt. Brinjal started in January- February 2014 with four GM varieties – Bt Uttara, Bt Kajla, Bt Noyontara and Bt ISD 006 (known as Bt. Brinjal 1, Bt. Brinjal 2, Bt. Brinjal 3 and Bt. Brinjal 4, thus losing its original names). The research institution did not feel any obligation to giving any satisfactory explanation on issues related to environmental and health hazards raised by campaigners. The move was even challenged in court, but rejected.

The first round of Bt. Brinjal saplings were given to 20 selected farmers in four districts. However, 16 farmers reported poor results and huge economic loss compared to those who carried out cultivation of local variety Brinjals. Nine of the 20 farmers reported that they had faced huge financial losses due to poor production output as most of the saplings died at different stages of cultivation.

Such failure in the performance did not stop BARI to expand Bt. Brinjal cultivation plans except that the BARI chief claimed that this time farmers will not face any difficulties as "October-November is the appropriate season for brinjal cultivation." This time International Service for the Acquisition of Agri-biotech Applications (ISAAA) took over to promote the GM crop and to prove that it is hugely profitable (see here).

But the reality is different. The saplings were given to 106 farmers in 17 districts, which included those in the first phase. Most of those who experienced bad results did not want to take saplings again. In the second round each farmer was given saplings of two varieties for half bigha (16 decimal) land, though BARI initially decided to suggest one bigha (33 decimal) for each variety. This means farmers agreed to give only a tiny piece of land for this 'imposed' cultivation plan by the government. According to BARI the purpose of expanding in the newer areas of cultivation is to make the product 'popular' across the country. But how can a product become popular if it does not perform well and does not show any economic viability?

DISMAL PERFORMANCE OF BT BRINJAL 2015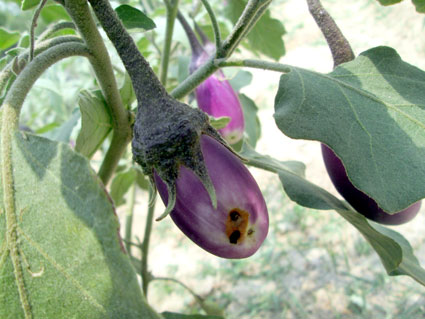 Genetically modified UTTORA. Despite the engineering pest attacked the GM variety, but promoters ignored the evidence.
---
Area monitored: Pabna Sadar, Ataikulla and Ishwardi upazilas of Pabna district
Farmer Rahmat Ali, of the first batch farmer could not reap any benefit, so he refused to take new saplings. Yet he heard that the list includes his name along with three new farmers from his village. He was being asked again and again to take the saplings. Another farmer, Amjat Hossain from Pabna Sadar said, he might try in 5 decimal land if they give compensation for the loss incurred last time.
According to information collected on 12 March, 2015, Rahmat Ali mentioned, "seedlings were distributed among 4 farmers including: 1. Alim 2. Ukil Khan (Father-in-Law of Amjat Hosain of Pushpa para), 3. Mahtab and 4. Rahmat Ali. He regretted for his ability initially, but was compelled to do because of repeated requests. This year also the crop is not good. He said, "Please come and see."
Amjat Hossain and his eldest son mentioned that they have not grown this year because of poor crop last season. Amjat Hossain further mentioned "my father-in-Law, Ukil Khan has grown this year. The crop condition appears as was last season. However, there are more flowers but yield is very poor. The plants have burnt appearance. The farmers will incur heavy loss this year also. The seedlings were distributed in the first week of January.
Peyara Amjad said, "seedlings were given in January. It is better this year than last year. This year the color of brinjal is green, last year it was white. There was restriction in saving seed last year, but this year it is allowed. I will raise seedlings this year. I have not yet been able to sell.
---
Click Here To Print
---
---
Comments Must Be Less Than 5000 Charachter