Organized Training Workshop on Participatory Plant Breeding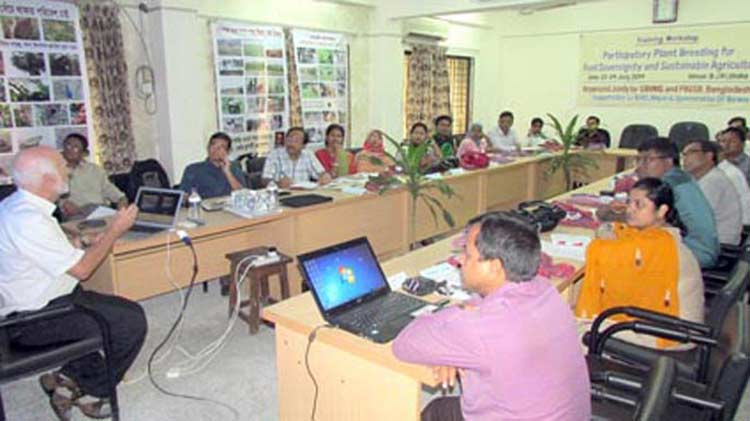 Jahangir Alam Jony || Monday 18 August 2014 || READ BY SUBJECT: Food Sovereignty

A training workshop on Participatory Plant Breeding (PPB) for food Sovereignty and sustainable Agriculture was jointly organized by UBINIG (Policy research for Development Alternative) and PBGSB (Plant Breeding and Genetics society of Bangladesh) at Bangladesh Jute research Institute (BJRI), Manik Mia Avenue, Dhaka during 22-24 July, 2014.

The training workshop was organized in relation to Community based Biodiversity Management (CBM) program which has been implemented in 4 countries in South Asia under CBM regional coordination unit by Local Initiatives for Biodiversity, Research and Development (LI-BIRD) from Nepal. In Bangladesh UBINIG is one of the CBM –SA partners working on the community biodiversity management. In relation to CBM, Participatory Plant Breeding is one of the main components of CBM-SA programme and is considered as novel concept in breeding due to its nature of conducting breeding programme in collaboration with breeders, farmers, academician and policy makers.

The workshop was coordinated and facilitated by Prof. John R. Witconbe, Center for Advanced Research in International Agricultural Development, Bangor University, UK; Dr. Pashupati Chaudhary, LI-BIRD (Local Initiative for Biodiversity, Research and Development), Nepal; Prof. Md. Shahidur Rashid Bhuiyan, President, Plant Breeding and Genetics Society of Bangladesh ( PBGSB) and conducted by Jahangir Alam Jony, Member, Central Management Committee, UBINIG.

The key speakers included Prof. Lutfur Rahman, Bangladesh Agricultural University (BAU), Dr.Helal Uddin Ahmed, Chief Scientific Officer, Bangladesh Rice Research Institute (BRRI), Dr. M.A. Sobhan, Consultant, UBINIG; Dr. Muhammad Khalequzzaman, Chief Scientific Officer, BRRI; Dr. Muhammad Ali Siddique, Head, Rice Quality Division, BRRI; Mr. Nur Nobi, IDE, Bangladesh and Prof. Md. Shahidur Rashid Bhuyan, President, PBGSB.

The participants were from research institutions, academia and NGOs that included Bangladesh agricultural research Institute (BARI), Bangladesh Rice Research Institute (BRRI), Bangladesh Jute Research Institutes (BJRI) and Bangladesh Institute of Nuclear Agriculture (BINA). The participants from universities included Bangladesh Agricultural University (BAU), Sher-E-Bangla Agricultural University (SAU) and Bango Bandhu Sheikh Mujibur Rahiman Agricultural University (BSMRAU). The Non- Government Organizations included Christian Commission for Development in Bangladesh (CCDB), Beez Bistar Foundation and UBINIG (Policy Research for Development Alternative).

The workshop began with a brief introduction of all the respective participants. The address of welcome was offered by Prof. Md. Shahidur Rashid Bhuiyan, President, Plant Breeding and Genetics Society of Bangladesh (PBGSB), Farida Akhter, Executive Director, UBINIG and Dr. Poshupati Chaudhary, Programme Director, LI-BIRD.

In the beginning of the workshop, the participants had expressed their expectations in writing in cards. At the concluding session the participants expressed satisfaction indicating that 95.65% of their expectations were achieved in the Training Workshop.

In the frame of the "Training Workshop on Participatory Plant Breeding for Food Sovereignty and Sustainable Agriculture" provided a model approach as to how plant breeding concepts, practices and technologies could enable sustainable crop production, with the aim to produce more food and other essential products from the same area of land while reducing the environmental impacts for social and economic benefits. The Training course addressed Context, Goal setting, Theory of Plant Breeding, Testing varieties with farmers, Seed supply and Outcome assessment.

The main topics discussed in the workshop included, Evolution of concept of Participatory Research in Plant Breeding. Importance and challenges of Participatory Plant Breeding (PPB), Understanding local context and germplasm access for goal setting, On farm diversity assessment, Four cell analysis, Group work on goal setting using four cell analysis, Concept, theory and practices of participatory crop improvement, Case of Grassroots breeding, Participatory Plant Breeding and Client Oriented Breeding in self and cross pollinated crops,Testing varieties with farmers, Participatory Varietals Selection (PVS), Mother and Baby Trials, Experience sharing of PVS by BRRI, Provision for Continuation of testing varieties with farmers, Rice seed supply system in Bangladesh, Determination of physicochemical and cooking properties of rice grain, Cases: Contribution of PPB in maize and rice.

There were group works plan developments by participants integrating some elements of participatory crop improvement (PCI) in their ongoing work

Prof. John R. Witcombe said, Participatory Plant Breeding (PPB) and Participatory Varietals Selection (PVS) are relatively new terms that encompass both old and recent concepts and procedures. The difference between PPB and PVS rests on the degree and timing of farmer's involvement. In fact, PVS is a component process in PPB. Every PPB programmes use PVS in some from. The support for PPB and PVS comes from dissatisfaction over the slow speed of varietal change in the conventional approach of plant breeding. The fact is that a more client oriented breeding approach can accelerate varietal change.
The main advantage for PPB and PVS is the existence of important cropping systems in marginal areas where the adoption of so called modern varieties is low. The low rates of varietal replacement highlight the potential for improvement from a change in approach that incorporates PPB. Involvement of farmers in the earlier stages of selection in plant breeding is a more recent development. The term PPB was coined at an IDRC workshop in 1995 and the PVS was also introduced in this event.
Prof. Lutfur Rahman said, in Bangladesh the cultivable land, specially the coastal belt is threatened by increasing salinity and inundation due to global warming and sea level rise. The northern part of the country has been facing shortage of water due to increasing drought. The temperature regime has started changing. The rivers, beels and haors are drying due to high use of surface and underground water for boro rice production, having poor chance of recharging the aquifers, crop production is being threatened alarmingly.
Although the growth in the agriculture sector in Bangladesh is good but further improvement is possible through exploiting even the existing potentials with new approaches, as an example, through removing the yield gap and trying to achieve the higher but achievable ceilings of the yields of the crops at the farmers level. The gap is high mostly due to development of technology using high tech and high imputes which is beyond the capacity of the income poor marginal and small farmers for easy adoption.
Dr. Pashupati said, the top down approach of agricultural research, where farmers were seen merely as recipients of research rather than as participants in it, has resulted to an increased dependence on a relatively few plant varieties. The trend and the increasing industrialization of agriculture are key factors in what can only be called genetic erosion.
---
Dr. Helal Uddin Ahmed shared the experience of BRRI for Participatory Varietal selection of rice. Participatory Variety Selection is a plant breeding procedure where scientists and farmers are directly involved to identify variety for cultivation in a certain targeted area. This is done two ways: Mother Trial (MT) and Baby Trial (BT). Mother Trial is conducted in experimental field or in farmers field but varieties are selected by the farmers by opinion/participation. Baby Trial is conducted with a few selected lines from the Mother Trial conducted in farmers' field by farmers' management and selected by farmers.
The advantage of the PVS is that the farmers can directly give their opinion, local problems get preference, selection of variety depends on farmers' likings, farmers select their own varieties, such varieties are easily accepted by other farmers easily and the varieties get rapid coverage.
BRRI has, in the mean time, developed and released BRRI dhan 47 for salinity tolerance in the coastal region; BRRI dhan 56 and BRRI dhan 57 for drought tolerance for the north western region of the country. Further PVS trials are in progress for developing rice varieties for flood tolerance in addition to varieties for other biotic and abiotic chesses, yield and quality of grains.
Dr. Mohammad Khalequzzaman presented the Rice Seed Supply Systems in Bangladesh. He said seed is an important vehicle for technological innovations and good seed is the first and fore most prerequisite for a healthy and vigorous crop. Farmer participatory experiments carried out in Bangladesh showed that good quality seed can increase rice yield by 8 to 10 percent. Quality refers to genetic, physical, physiological and health status of seed. Seed certification Agency (SCA) in Bangladesh ensures quality control of seeds of various crops.
The seed quality control system in Bangladesh is based on four principal aspects including: (1) a list of varieties eligible to be produced as quality seed is established, (2) seed producers are required to register with an appropriate national authority, (3) the national authority checks the seed crops and (4) the national authority checks seed offered for sale under the designation of quality declared seed. The quality of seeds for sale is controlled by executing: (1) seed certification, (2) truthfully labeling and (3) market monitoring.
Dr. Muhammad Ali Siddique presented the Rice Quality Assessment as practiced by the Bangladesh Rice Research Institute. Physicochemical properties, cooking qualities and eating attributes of rice grain of newly developed breeding lines are assessed by the Grain Quality and Nutrition Division of BRRI. Rice in Bangladesh is mainly consumed as whole boiled grain. The desired properties of rice grain vary from one ethnic group to the other group and also from one geographical region to another location.
The concluding session was chaired by Dr. M. A. Sobhan. On behalf of the participants the feedback remarks contributed by Dr. Md. Abdullah Al Bari from Bangladesh Agricultural University and Dr. Resma Sultana from Bangladesh Agricultural Research Institute. Dr Chandar Kumar Shah from Bangladesh Jute Research Institute also spoke in the concluding session. Dr. John R. Witcome gave away certificates among 23 participants.
Dr. M. A. Sobhan said, we are very happy for have successfully accomplished the three days 'Training Workshop on `Participatory Plant Breeding (PPB) for Food Sovereignty and Sustainable Agriculture'. The topic in this workshop covered the approaches to work for Participatory Plant Breeding programmes in self and cross pollinated crops.
We are also happy that this workshop was enriched with resource persons representing Bangor University, U.K; LIBIRD, Nepal; Plant Breeding and Genetics Society of Bangladesh, Bangladesh Agricultural University, Sher-E-Bangla Agricultural University, Bangladesh Rice Research Institute; IDE, Bangladesh and UBINIG. A total of 23 participant representing the major crop research institutes, agricultural universities and NGOs attended the workshop.
We express our best sense of appreciation to the resource persons, participants, sponsor, patrons and the organizers.
---
Click Here To Print
---
---
Comments Must Be Less Than 5000 Charachter