Chakaria farmers want freedom from the vicious chain of tobacco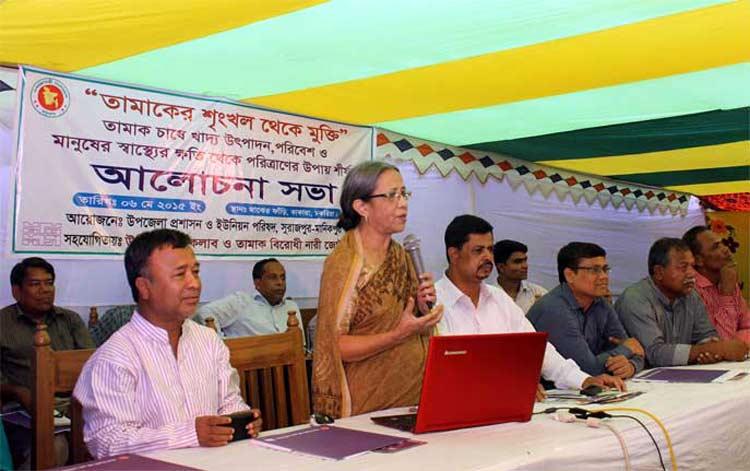 Dr. M. A. Sobhan || Wednesday 13 May 2015 || READ BY SUBJECT: Development

A discussion meeting of over two thousand farmers was held on 6 May, 2015 against the aggressive extension of tobacco cultivation in Chakaria Upazila, Cox'sbazar district at Majherparas Bazar, Kakara union at 5pm. The farmers and their representatives shared their sufferings due to oppressive treatment of tobacco companies at the time of procurement of tobacco leaves. On the otherhand, if they grow food crops, the lack of storage facilities for perishable ones, they suffer economic losses. In this situation the farmers suffer in the horns of dilemma, either to grow food crops or tobacco. Today, the farmers have united under the assurance of the local administration that they will drastically reduce the acreage of tobacco cultivation and with support from the administration develop storing facilities such as Cold storage.

UBINIG (Policy Research for Development Alternative), ECLAB, Surajpur - Manikpur Union Council in collaboration with the Upazila Administration organized the discussion meeting. Tobacco farmers, owners of land, other stakeholders including elites, members of local administration and peoples' representatives participated in the event. It was a high profile meeting because of the presence of Alhaz Mohammad Elias, MP, Chokoria and Pekua was the chief guest. Alhaz Mohammad Elias, MP, Chokoria and Pekua as the chief guest. Azimul Huque Azim, Chairman, Surajpur - Manikpur, Union Council, chaired the meeting. Besides all the high level upazilla administration officials were present and spoke against the harmful effects of tobacco cultivation. They were Alhaz Zafar Alam, Upazila Chairman, Chokoria; Rejaul Karim, ex-Upazila Chairman, Chokoria; Mohammad Sahedul Islam, Uparila Nirbahi officer; Shafia Begum Shampa, Vice Chairman, Chokoria Upazila; Mohammad Atiqullah, Upazila Agriculture Officer; Provash Chandra Dhar, Officer-in-Charge, Chokoria Upazila; Giash Uddin Chowdhury, Union Council Chairman; Dr. Mohammad Saber, Resident Medical Officer, Upazila Hospital, Chokoria; ABM Jashimuddin, Range Officer, Fashiakhali Range, Forest Department; Mohammad Noman, Upazila NGO Coordinator, Chokoria; Alhaz Jasim Uddin, Union Council Chariman, Chiringa Union Council; Swakot Osman Manik, Panel Chairman, Kakara Union; Harun-ur-Rashid Chowdhury, Shamsul Alam and Nazem Uddin were present as special guests.
---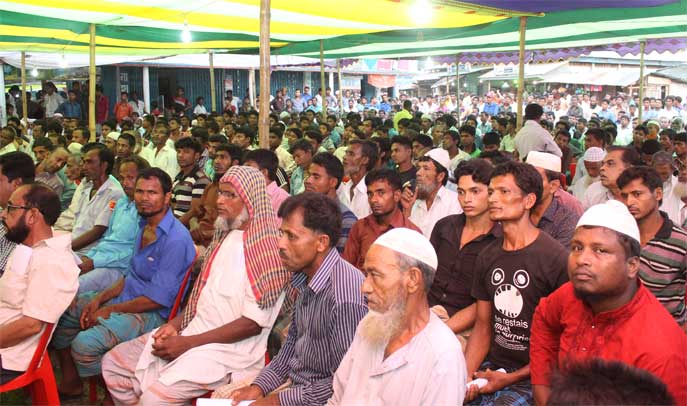 ---
Rafiqul Huque Tito, Regional Coordinator, Cox'sbazar, UBINIG and Mahbubur Rahman Bhuyan, Manager, Chokoria Pekua Upazila, ECLAB jointly moderated the discussion meeting. Farida Akhter, Executive Director, UBINIG presented the keynote speech.
Farida Akhter said, Tobacco cultivation was introduced as a cash crop. Very soon tobacco appeared as a poisonous item to people, a losing concern to farmers and as a serious pollutant to ambient environment.
Tobacco is now grown on 126,000 acres in Bangladesh (BBS 2012). Soil fertility is fast degraded by tobacco cultivation. That is why the tobacco companies shift out for new fertile land in newer areas. They started in the north of the country, moved to the mid-west, south-east and now looking for new areas elsewhere. The aggression of tobacco cultivation spread upto the Chittagong Hill Tracts because of the fertile soil of Matamuhuri river bank and availability of trees from the Hill forests. Tobacco cultivation is degrading soil fertility and also denuding the forest and plantation. They use woods for curing tobacco leaves. Farmers are lured for high return but are finally exploited tactfully.
Tobacco companies raise loud slogan for planting trees of their choice. They sponsor campaign for tree plantation - "plant trees, save environment". In reality, they log trees indiscriminately for curing tobacco leaves.
Huge quantities of pesticides are used in tobacco production. Those pesticides pollute water, air, and environment at large. The pesticides are the major causes of cancer, diabetes, diarrhea, vomiting ,kidney diseases, headache, skin lesion, etc. There is law, "Smoking and Tobacco Products Usage (Control) (Amendment) Act 2013" for tobacco control. Now, we immediately need enactment for controlling tobacco production.
---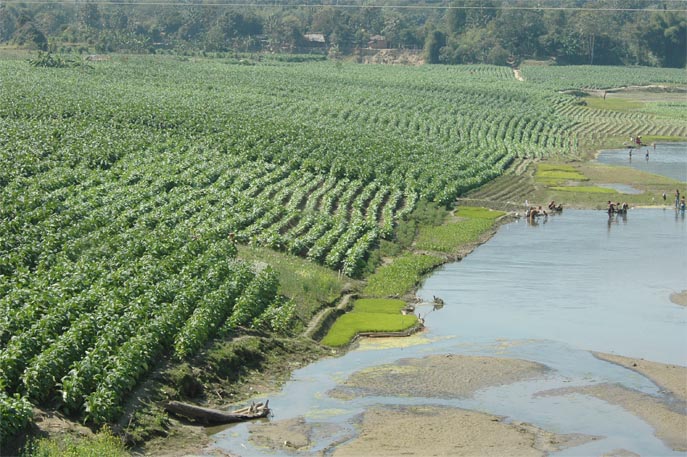 ---
Tobacco cultivation can be stopped and farmers can shift to other agricultural crops with support of local variety seeds and support for marketing of crops. The government is now going to formulate the Policy to discourage tobacco cultivation and it is now time to take actions.
Zafar Alam, the Upazilla Chairman said that the farmers must be offered due price of the tobacco they have produced this year. The tobacco companies will not be spared if they try to deceive the farmers. All out efforts will be taken up for innovation of alternative crops and cultivation practices for shifting out of tobacco. The farmers will be provided all sorts of government support to this end.
Rejaul Karim, ex-Upazilla Chairman said, two dams were constructed in the Matamohuri river at the cost of BDT 53 crores for improvement of agricultural potential of Chokoria upazila. Canals were dug for ensuring the supply of fresh water. The government is providing all sorts of supports for improvement of agricultural facilities for the farmers. So tobacco cultivation can be stopped.
The Member of Parliament, Alhaz Mohammad Elias said, the farmers of Chokoria will not need to cultivate tobacco in future. They will grow diversified crops from next season. A Cold Storage will be constructed in Chokoria. The farmers will be able to store their crops in the warehouse round the year. He mentioned that previously, watermelon, tomato and vegetables were being grown at Chokoria in vast areas. The tobacco companies motivated the farmers for cultivation of tobacco. Tobacco is a bad smelling item reflecting its impact on human health and environment. We need to offer alternative crops for farmers. Cultivation of maize, water melon and vegetables will be extended.
Each and every speaker emphasised on the need for stopping tobacco cultivation and to make Chakaria Tobacco free. In his speech as the chair of the meeting Azimul Duq Azim said it is clear that we have burnt our fingers with the fire coming out of the tobacco curing kilns. We have now decided to shift out of tobacco and grow food crops. I appreciate the organizers and the participants for their sincere interest in this meeting. I look forward to effective implementation of our commitment and conclude the meeting.
---
Click Here To Print
---
---
Comments Must Be Less Than 5000 Charachter