Bt brinjal failed in farmers' field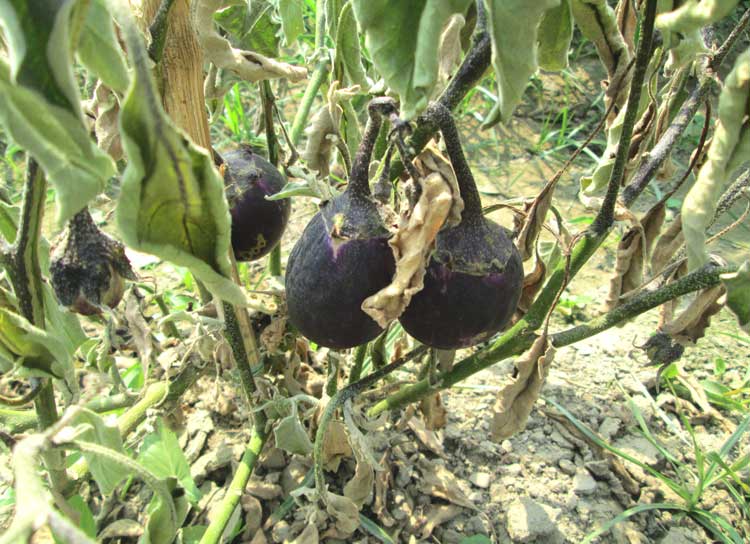 Jahangir Alam Jony and M. A. Sobhan || Sunday 21 August 2016 || READ BY SUBJECT: Btbrinjal & Corporate Politics

Bt Brinjal affected by aphid

Brinjal is the most important vegetable in Bangladesh, a common crtop farmers grow for family consumption as well as for the market. Nationally it is grown in about 50,000 hectares of land in two major seasons: winter and summer. However there are varieties that can be grown round the year. However seasonal varieties are culturally preferred. Indigenous nutritional knowledge claims that those fruits and vegetables are best for health if they go by seasons.

Bangladesh is a country of wide range of varieties of brinjals. Despite the widespread erosion of genetic dioversioty there are still at least 248 varieties of brinjals. Most of the varieties are resistant to major disease and pests. The major pests of brinjal include insect, mite, fungi, nematode and bacteria. The fruit and shoot borer (Leucinodes orbonalis) is one of the insect pest of brinjal. Some of the local varieties including Jhumka 1, Jhumka 2 are highly resistant to fruit and shoot borer; Islampuri 3, BL 34, Muktakeshi are fairly resistant, Singnath long and Singnath 4 are tolerant to brinjal shoot and fruit borer. (Screening of Local and Exotic Brinjal Varieties/Cultivars for Resistance to Brinjal Shoot and Fruit Borer, Leucinodes orbonalis Guen).

Farmers produce plenty of local variety of brinjals. To ensure the economic return for their produce they need marketting support including ways to popularise different indigenous varieties catering different culinery demand and nuances of the pest. Obviously, the introduction of genetically modified brinjal is both unnecessary and unacceptable for farmers. Instead of using the local germplasm for varietal improvement of brinjal to shoot and fruit borer through conventional breeding, gene from Bacillus thuringiensis were inserted into the brinjal genome. This transgenic modification is aproprietory technology of Monsanto-Mahyco. In 2005, the company used the public institution mainly to appropriate local brinjal varieties. Such collaboration raises serious intellectual proprietory rights issue. The collaboration is not even based on minimal development goal of technology transfer.

The Bt brinjal was approved for commercial release in Bangladesh in 30th October, 2013. In January, 2014, Bt Brinjal seeds were given to 20 selected farmers. The crop failed in 17 farmers' field. In the second round Bt brinjal was grown in 108 farmers field with direct and constant care of the scientist of BARI and the officers of the Department of Agriculture Extension (DAE). BARI done this show to demonstrate that the tranbsgenic variety is ready for ftrial in farmer's field. Evidences prove the contrary. Despite this unprecedented care, the performance of Bt Brinjal was too bad with utter dissatisfaction to the farmers. Farmers Rezaul and Mahtab of Pabna narrated their experiences disgusted with the cultivation of Bt Brinjal.

Rezaul Molla lost Tk. 30,000 by cultivating Bt. Brinjal 2 & 4

Md. Rezaul Molla, village: Kushtiapara of Pabna district cultivated Bt brinjal on 1 Bigha (33 Decimals) of land. Bt brinjal: Bt 2 and Bt 4 along with non Bt Jhumka seedlings were transplanted on 17 January, 2015. He received the brinjal seedlings from the Atgharia Agriculture Extension Officer. The agriculture officer from DAE visited the brinjal field on several occasions. Fertilizers including TSP, MOP, Urea, Gypsum, Zinc and Boron were supplied by the officers of DAE. The plants of Bt 2 and Bt 4 varieties were affected by aphid, white fly, virus and mite. Pesticides were sprayed several times. All the pesticides were supplied by the DAE. The growths, development, fruit bearing of Jhumka were better than Bt 2 and Bt 4 varieties. He had grown Bt 2 and Bt 4 on 75% of land and Jhumka on 25% land. He had sold Bt 2 and Bt 4 worth of BDT 1,500 and jhumka at BDT 2,500. The color of Bt 2 and Bt 4 varieties were yellowish, pale, dull and unattractive. The consumers did not like the appearance of Bt 2 and Bt 4 varieties. So it was difficult for the farmer to sell the Bt brinjal in the market.
---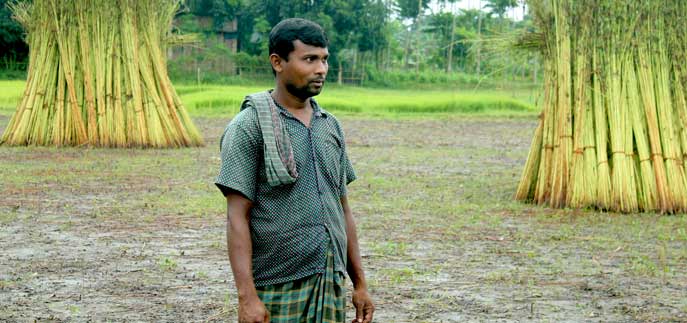 Rezaul Molla cultivated Jute after Bt Brinjal crop failed
---
Rezaul Molla cultivated Bt brinjal on leased in land with a great hope. The DAE officers motivated him by saying that it would yield a significant quantity. The DAE officers also assured him to provide the lease money of land, cost of production and other incidental expenses. They also assured of compensation if such situation arises. The farmers trusted the DAE officers because they were responsible and educated persons. But in reality the farmers was frustrated because of the very poor performance of Bt brinjal and the non compliance of the commitment made by DAE officers when the crop failed badly. Rezaul is a van driver and a part time farmer. He purchased a shallow tube well for irrigating the Bt brinjal field taking loan with high interest as he had to irrigate the Bt brinjal field regularly. Yet the performace was very bad, which made him very upset as he could see the neighbouring local brinjal fields perform so well. The DAE organized a field day in his Bt brinjal field. At that time Rezaul asked for compensation. The officers assured him about compensation but they did not pay him rather they asked him to keep the Bt brinjal plants for more time in the field till the time of the Field Day. After the field Day was over, there was no further cooperation from DAE. Rezaul understood that the Bt brinjal crop would not yield any more. So he cut the plants and cultivated jute followed by aman rice. He incurred a loss of BDT 30,000 by producing Bt brinjal. Rezaul Mollah expressed his unwillingness to grow Bt brinjal any more. He would suggest other farmer to keep way from Bt brinjal.
Mahtab Ali replanted the seeds of Bt Brinjal – no fruit
Mahtab Ali, village Banagram, Pabna. He cultivated Bt 2, Bt 4 and a local variety Jhumka in 25 decimals of land. He transplanted Bt brinjal seedlings on 17 January, 2015. On Farm Research Division of BARI provided the seedlings of Bt brinjal to Mahtab Ali. The officers of BARI and DAE visited Bt brinjal crop 15 to 20 times and the deputy assistant agriculture officer of the DAE visited the Bt brinjal after every 1 / 2 days. Officers from Dhaka also visited his Bt brinjal field. The BARI officers organized a field day in his Bt brinjal field. The BARI provided not only seedlings of Bt brinjal but also fertilizers including MOP, TSP, Urea, Gypsum, Zinc and Boron. The Bt brinjal crops were affected by aphid, white fly and mite. But the plants of Jhumka variety of brinjal were free from the above mentioned pest. The BARI provided the farmer with pesticides. The farmers had to spray 3 / 4 times a week. He spent a sum of BDT 35,000. He could sell Bt brinjal for BDT 5,000 only. Mahtab has incurred a loss of at least BDT 25,000 in Bt brinjal production. He will never grow Bt brinjal again.
---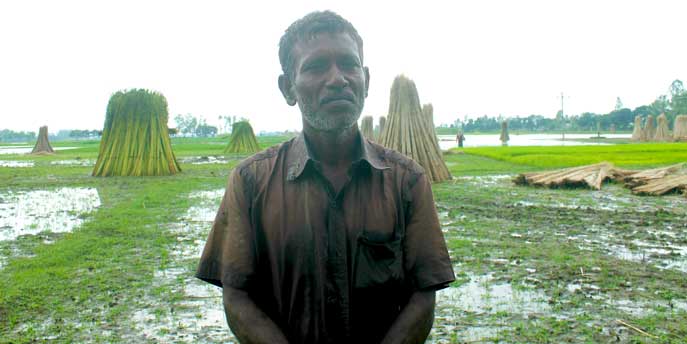 Mahtab Ali was frustated with Bt brinjal cultivation but happy with good jute harvest
---
Mahtab was curious to see how Bt brinjal performs in summer season. He had planted four plants of Bt Brinjal 2 side by side with a plot of local variety of binjal Loitana. The growth of Bt 2 variety of brinjal is very weak compared with the local variety of Loitana brinjal. The local variety has vigorous growth and heavy bearing of fruits. Still there is no fruit in the Bt 2 brinjal plants (18 August, 2016).
Mahtab had cultivated jute after harvesting brinjal. He had sold jute for BDT 20,000 and he expects BDT 5,000 by selling jute stick. The land is now ready for transplanting aman rice. He is happy with the cropping pattern of brinjal – jute – paddy. However the brinjal variety should be a local one and not Bt in any case. He further expressed that he will never grow Bt brinjal again and advises other farmers not to grow Bt brinjal. This is because he has incurred a heavy loss by growing Bt brinjal and he does not like that any other farmers should suffer loss like him.
---
Click Here To Print
---
---
Comments Must Be Less Than 5000 Charachter