---
Asafoetida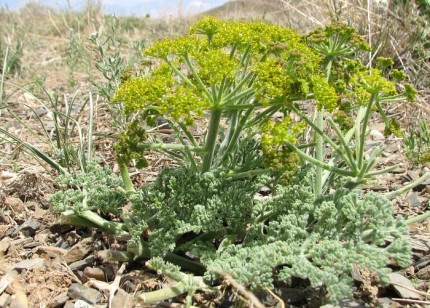 Wednesday 02 November 2016

Other Local Name : devil's dung, asant, food of the gods, jowani badian, stinking gum, hing, hengu, ingu, kayam, and ting

Botanical Name : Ferula assa-foetid

Family : Apiaceae

Main Use : Spice/Medicine

Other Uses : Spice, Medicine,

Know More
---
Asafoetida is used for flavouring curry in India and Iran.In addition, it is used in preparation of pickle and pulse.There are two types of asafoetida: white and red .
Asafoetida has been used in India for preparation of traditional medicine since time without date. It has been used for treating anaemia, asthma, bronchitis, hysteria, kala -azar, dispepsia, hookworm, congestion, bloating and excessive menstruation with pain. It is also used for increasing neural strength, digestive power and ensuring sound sleep.
Nutrient content : per 100 grams. Moisture : 16 percent.Protein: 4 percent. Fat : 1.1 percent. Mineral : 7 percent . Fiber:4.1 percent. Carbohydrate : 67.8 percent.
Center of origin: Asafoetida originated in the Mediterranian and the central Asia .Now it is grown in Afganistan, Iran,India and Tibet.
Chironjib Bonoushodhi, Vol.6, Indian Spices. Condiments and Natural Herbs
---
---
Click Here To Print
---
Comments Must Be Less Than 5000 Charachter