---
White verticlla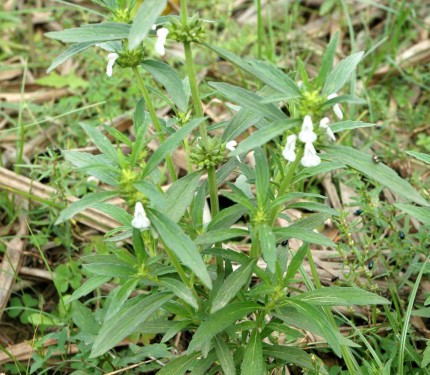 Saturday 10 December 2016

Other Local Name : Thumbai

Botanical Name : Leucas aspera

Family : Labiatae

Main Use : Medicinal and Food

Other Uses : Medicinal and Food

Know More
---
Thumbai is an annual herb with a few branches. The stem is straight and slightly hard. Leaves are deep green, elongated and sword like.
It comes up as a weed in rabi crops field.It is a common weed in grass pea,mustard and lentil fields. It grows
better in high and medium lands.
Medicinal use : Boiled leaves mixed with black cumin ,garlic and green chili are served for treatment of cold and fever. Nectar from flowers is effective for treatment of fever of young children. Boiled and smashed leaves are quite effective for treating indigestion and bloating. Leaf extract is effective for treatment of cataract.Root extract mixed with pepper are served three days for treatment of asthma . Intake of leaf extract is effective for treatment of arthritis.
Source:
1.Vartyo bonushadhi - Dr. Kalidas Biswas
2.Report,UBINIG field research
---
---
Click Here To Print
---
Comments Must Be Less Than 5000 Charachter