Submergence Tolerant Rice versus Broadcast Aman Rice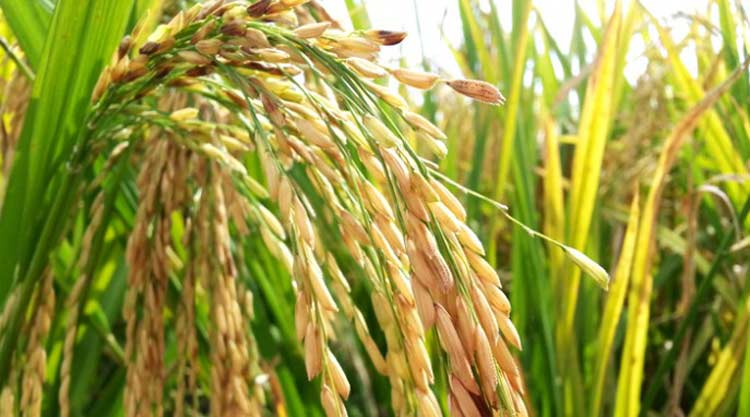 Dr. M. A. Sobhan || Thursday 02 April 2015 || READ BY SUBJECT: Rice

A Report on" innovative rice farming in the north" was published in the Daily Star on 11 February 2015. It was mentioned in this report "people in the low lying districts of northern Bangladesh suffered from a devastating flood, submerging traditional Aman rice varieties for 15 days, causing full or partial damage".

The information about the flood is a fact but the last part of the above sentence "submerging traditional Aman rice varieties for 15 days, causing full or partial damage" has created a space for debate.

It is well known that the life and livelihood of the people of the northern region of Bangladesh has been fine tuned with the water regime since time without date. In fact 20% of the total geographical area of Bangladesh goes under water in normal years. The devastating floods that happened in 2007, 2004, 1998, 1988, 1974, 1951, 1892, 1885, 1875, 1871, 1858, 1842 covered far wider areas for longer duration. For example in 1998 the flood plain areas of the Jamuna, Ganges and Padma remained submerged for 87, 28 and 118 days, respectively.

Agriculture is a divine gift for the people of this region. Rice is the central gem of the crown. The people of this region have been growing diversified varieties of rice matching the agro- ecological settings. They have been selecting rice varieties based on the type of land and topography. They selected specific varieties suited for the high lands. Different varieties were selected for the medium land. They also selected a handful of rice varieties for the flooded low lands. These are popularly known as deep water paddy or `bona aman dhan'. The seeds of these varieties are sown broadcast in April - May. The paddy grows with rising water during July - September. Matured paddy is harvested in November - December after recession of water.

Aman paddy is cultivated on 56, 45, 637 hectares annually. Out of these, transplanted aman paddy is grown on 52, 19, 583 hectares and broadcast aman is grown on 4, 26, 054 hectares (BBS, 2011).

Hundreds of traditional deep water paddy / broadcast paddy / `bona aman' paddy have been grown on low lands located in different parts of the country. In a recent survey conducted by Nayakrishi Andolon of UBINIG (2010) , 164 varieties of broadcast aman paddy were reported from different parts of Bangladesh. The main varieties included: Chamarasdigha, haringadigha, baoijhak, morichful, modhushail, lohadang, kartikshail, vaoalia, banshiraj, jhuldigha, sonadigha, vaoaliadigha, malvog, bokjhul, sadabajal, bajal, baoal, kalobajal, ijaldigha, sonajoli, patnol, dhepa, dhalamota, joldhepa, dudhbajal, dhepasail, lalchamara, panisali, sonanchal, kalodhepa, lakshmidigha, oshani, dingamoti, morabajal, vaoal, paniamota, bashnol, dudhsail, bashmota, panibhanga, dudhraj, gonokroy, banshmaloti, omorschamara, laldhepa, arairal, hial, khomon, gori, kajal, kartikjhul,lani, dulon, bildubi, malikashail, sonagiri, kajalgiri, dumraj, joldubi, basna, lotamota and laita.

IRRI rice was introduced from the International Rice Research Institute (IRRI) , Philippines in the mid sixties of the last century as a gift of the Green Revolution. Later on the Bangladesh Rice Research Institute (BRRI) and the Bangladesh Institute of Nuclear Agriculture (BINA) had released a handful of improved varieties of rice. Rice hybrids have been introduced from China, India and Philippines since the late nineties. Recently the Bangladesh Rice Research Institute and some seed companies have been producing hybrid rice seeds locally. So far 117 rice hybrids have been released in Bangladesh. Hybrids of other crops including maize, vegetables, potato, water melon have also been released. Despite public opposition in the interest of human health, biodiversity and environmental grounds, four varieties of Bt brinjal were released in 2013. The ownership of the genetically engineered Bt brinjal belongs to Monsanto's Indian subsidiary, Mahyco, Maharastro Hybid Seed Company (MHSCL). Mahyco is a subsidiary of US-based multinational seed company, Monsanto (Farida Akhter, 2014). Recently Genetically Modified (GM) rice and potato were approved for experimental planting in Bangladesh.

The Multinational Companies (MNCs) have been grabbing the seed business and the agricultural production step by step. Such foundation was laid out in the guise of High Yielding Varieties (HYVs), hybrids, GMO and lately molecular techniques. It appears on gross accounts that the yield and production of rice has increased significantly in the last four decades. The cost of this apparent increment is more horrifying in terms of irrigation, chemical fertilizer, pesticides and herbicides. The loss of biodiversity and environmental degradation are beyond calculation.

Multinational Company sponsored modern agricultural technology is capital intensive. Illusive motivation increased pauperization of the small farmers. They have become captive clients of vicious network of microcredit NGOs. Food items of common people have become contaminated with poisonous chemicals. Human health risk has increased many fold. Adaptability to climate change variation has been reduced due to loss of genetic variability.

Furthermore, so called submergence tolerant rice varieties are being introduced in spite of having hundreds of traditional varieties of rice adapted to variable depths ,time and duration of flooding ,agro-ecological conditions, pest tolerance, quality parameters and farmers choice.

It is claimed that the introduced submergence tolerant rice will remain unaffected only for 15 days of submergence.

On the contrary the traditional deep water rice varieties/broadcast aman rice varieties grow with rising water. The plants float above the water. One bud emerges from each of the nodes. The floating plants settle down on the ground on recession of flood water. The emerged buds set on the soil and bear panicles.

Further it is known that the so called submergence tolerant introduced rice varieties can survive, if:

*floods come after the seedling stage is over;
*floods come before flowering;
*flood water goes out within 10-20 days of submergence;
* water temperature remains below 26 ˚C and
*water remains transparent.

The introduction of the so called submergence tolerant rice varieties will not only threaten the existence of hundreds of indigenous deep water rice varieties but also it will impose vulnerability to food security of the people.

Thus it is suggested that breeding and selection programs be carried out with the traditional deep water rice germplasm conserved in the Gene Bank of the Bangladesh Rice Research Institute (BRRI) for developing varieties suited to flash flooding coupled with higher yield and quality.
---
Click Here To Print
---
---
Comments Must Be Less Than 5000 Charachter