Relief and Reconstruction work after repeated floods in Chakaria, Cox'sbazar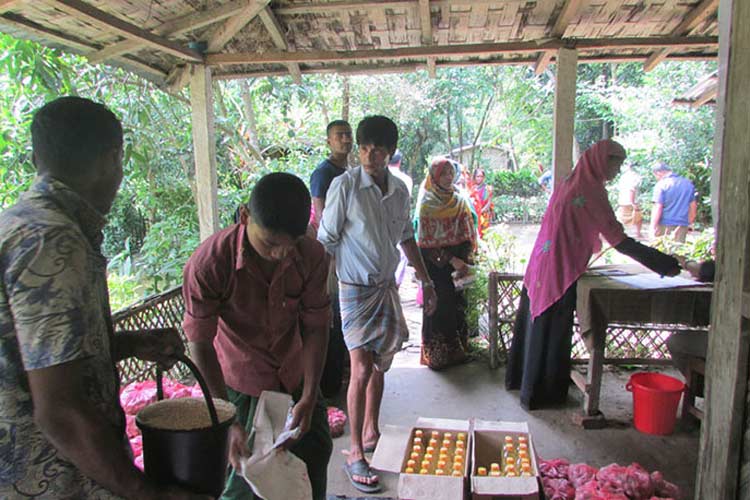 UBINIG || Friday 18 December 2015 || READ BY SUBJECT: River & Floods

Supported by PWRDF

Since June 2015, there have been three consecutive floods with heavy rainfalls within 3 month period that has disrupted the normal life of people in Chakaria (Cox'sbazar) and Lama and AliKadam of Bandarban. People were marooned and road communications with other districts were disrupted. It was not possible for anyone to go from Dhaka to help them as the road communication was badly damaged. The only support could be by sending money so that they can buy food items and cylinder gas to cook food. According to our Chakaria centre staff, they did not see the face of sun for a full day during three months, because of rain or cloudy weather condition. Low lying areas and those near the river embankments were most affected because the embankment was destroyed by heavy rainfall. Towards middle of August, the water started receding from most areas, but rainfall did not stop. It was very difficult to start relief work. People were suffering from lack of food, water and shelter.
Relief line for the flood-affected areas, Community engagement in packing food items potato, rice and oil.
---
Yet, UBINIG field staff took boat to reach the villages and make an assessment of the immediate needs, talked to the communities about distribution of food items in and for immediate construction of the 4 badly affected Dai ghors.
The first phase of relief work could only be started on 1 September, 2015 and continued till 9 September. The first steps included formation of local committees, taking quotations for purchase of food items, making list of the most affected families (as the need was much higher) etc. The committee members included a Dai ma, woman Union Parishad member and a UBINIG staff. As most receipients were women, the committee was made with Dai ma and woman member of local government. According to plan, food relief was distributed in 17 villages among 850 families in 4 days and construction of 4 Dai ghors started simultenously. The point of distribution was Dai ghor or UBINIG centre.
Table 1: Distribution of food relief items
| | | | |
| --- | --- | --- | --- |
| Distribution point | Union | # of villages | # of H/H |
| Krishnapur Daighor | B M Char | 4 | 172 |
| Mognamapara Daighor | Badarkhali | 5 | 239 |
| Uttar Natun ghona Daighor | Badarkhali | 4 | 186 |
| Paddaboti UBINIG centre | Purbo Boro beula | 4 | 255 |
| Total | | 17 | 852 |
The food relief item included rice, potato and oil. People in this area do not take pulses in their regular food. More food relief will be distributed soon. A list is prepared for distribution of food among 100 families in Bandarban among the indigenous communities.
Daighor reconstruction
Among the four damaged Dai ghors 3 are completed with repairs and reconstruction to make it operational except where the water did not recede enough to start the work. In these Dai ghors the work has resumed. This is because the embankment is damaged and water flow continues during high tide and floods the village. But the Dai Mas are continuing the work through a neighbour's house.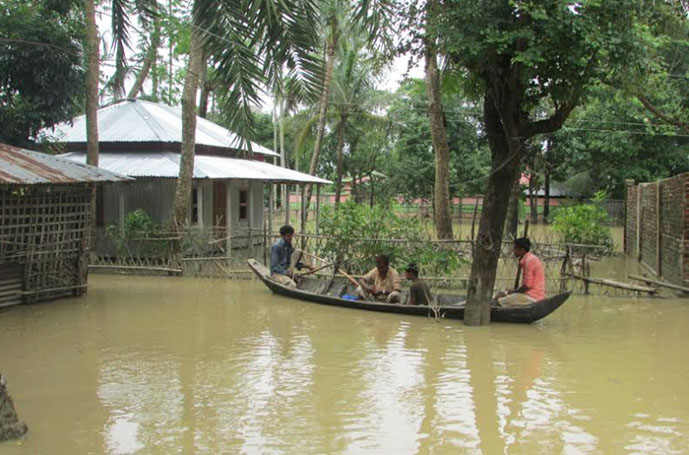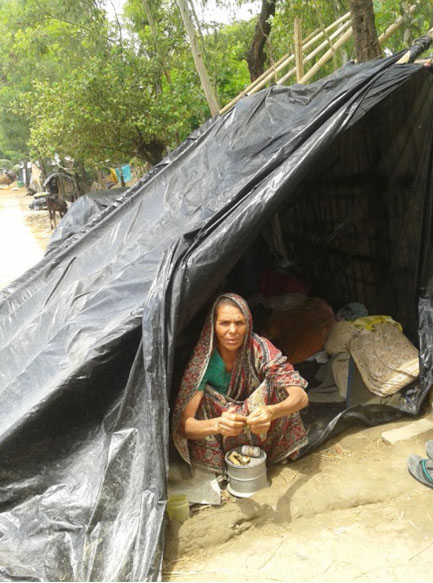 Flood Daighor and need assessment visit by UBINIG staff. An affected Dai Ma taking shelter on a higher road
---
Women and men lining up in front of a Daighor for taking relief. Dai Ma Ansara Begum taking lead in distribution of food relief in her area in Uttar Notun Ghona Dai Ghor
---
Women receiving food relief
---
Click Here To Print
---
---
Comments Must Be Less Than 5000 Charachter