Demand for generic names of medicine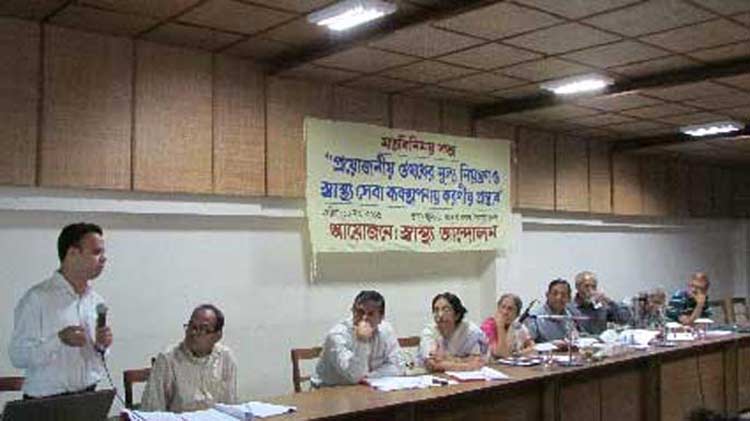 Shasthya Andolon || Wednesday 12 March 2014 || READ BY SUBJECT: Health & Health Policy

Shasthya Andolon discussion meeting on Increasing Drug prices and the healthcare system was held on 11 March, 2014 at 3 pm in Chayanaut meeting room, Dhaka. Palash Baral, Director of UBINIG conducted the meeting with Farida Akhter, Joint Convenor of Shasthya Andolon as the chair. It was attended by some government officials, health activists, Allopath and Ayurved practitioners, representatives of pharmacy shop owners association and health researchers. Any discussion on health usually ends up in treatment of diseases and the treatment means only prescription and use of medicines. So the meeting focused the discussion on very practical experiences of all concerned.

Recently a newspaper report drew the attention which showed that during February 2014 the prices of the medicines for common ailments such as stomach problem, asthma, cold etc. increased between 30% to 87%. The Daily Bonik Barta (12 February, 2014) reported that the prices of Amodis of Square Pharmaceuticals raised from Tk. 200 to 260, and Amodis Syrup from Tk. 22 to Tk 30. This increase happened after an initial increase in November, 2013. Similarly price of 200 Filmet Tablet of Beximco Pharma was raised from Tk. 250 to Tk. 315; For Jayson the price of 500 Histacin tablets were increased from Tk. 85 to Tk. 150. In this context it was felt that the rising price of the essential medicines is going beyond control.

In the keynote paper, Syed Mahbubul Alam being a lawyer by profession raised the question whether medicines are means to save life or just a commercial commodity? There are at least 11 different policies and laws to regulate drug and its prices such as Price Fixation Policy, Drug Policy, Consumer Rights law, however, with no or little implementation. Moreover, there are institutions which can be made active to implement such laws. For example, the Parliamentary Standing Committee related to Ministry of Health and Family Welfare, Directorate General of Health, Drug Administration and Essential Drug Company Limited (EDCL).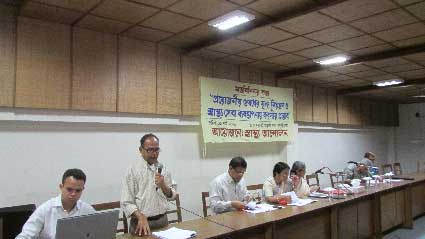 The Drug Policy of 1982, if implemented properly could have set an excellent example in providing health care to people, because it ensured reasonable price for the essential drugs, identified the unnecessary and harmful medicines, ensuring quality production of essential drugs, use of generic names for medicines, inclusion of Unani-Ayurved and Homeo under the policy, reduced dependence on foreign multinational companies for drug production etc.
According to the Drug Control Administration there are 2200 generic name drugs in the market and at least 45,000 brand names medicines are marketed. The Drug Control administration can only control 209 generic name drugs.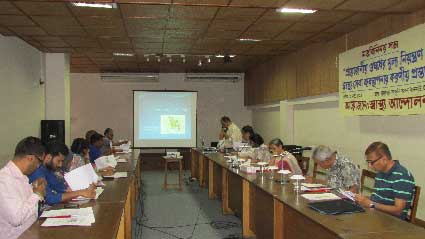 According to Health Watch Report, during 2010 medicines worth Tk. 6000 crores were sold in the market, out of which medicines worth Tk. 3000 crore were useless or unnecessary. The use of anti-biotic drugs is indiscriminate. The low quality and adulterated medicines also became a major concern for the users.
The Drug companies have recruited 20,000 representatives to ensure selling of their drugs. Companies also use the Palli Chikitshaks as their agents to sell medicine. The doctors and the medicines have become part of this syndicate.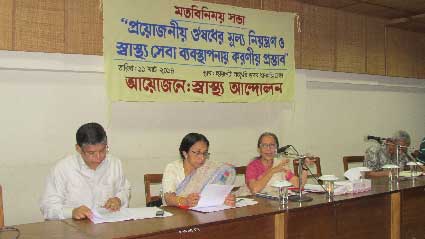 It is very unfortunate that the production of drug is not to save people from diseases but to increase profit of the companies.
After Mahbub's setting of the issue A K M Maqsud of Health Association said that medicine has become a commodity and is spreading even in villages. People are using pain killers which are becoming one of the major causes of kidney diseases. Aminur Rasul however, emphasised on the need for improving the services of the government hospitals and believes that it is the government hospital which can provide good healthcare services. However, he was surprised to see the presence of medical representatives of the Drug Companies who check every patient coming out of the doctor's rooms whether the doctor has prescribed their medicine.
The representative from Hamdard Unani medicine, Alamgir Kamal stated that there are 400 Ayurved-Unani companies in the country. It is true that the price is higher for Unani medicine, but that is mainly due to maintenance of the quality. For example a good quality Jafran is Tk. 4 lakh per kg. The other ingredients such as Amloki, Bohera, Horitoki are not always found in good quality. Those have to be imported. On the other hand, there are many herbal medicine sold but have chemicals in it. Thirty district hospitals are instructed by the Prime Minister Sheikh Hasina to have medicinal plant gardens, although those are not yet implemented.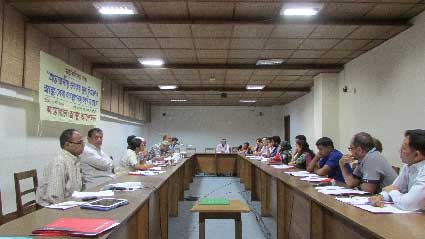 Dr. Rashida Begum, Associated Professor at NIPSOM said if we cannot distinguish between a grocery shop and a pharmacy then it is quite dangerous. More use of medicine cause resistance against drugs.
The representative of the Drug Sellers Association Alhaj. Harun ur Rashid said that during last 30 years the commission to the sellers remained at 12.5%, it did not change. On the other hand, the company raised the prices of the drugs quite frequently. The buyers do not believe the sellers as the price changes are quite drastic. So as a seller of medicine, they suffer as much as the consumers. They are not given any training on how to develop their trade. The companies offer them "discount" which leads to unfair practices on the part of the sellers. It is like a "bacteria". The companies in the name of discount give them date-expired medicines and force them to sell lower quality medicine.
Showkat Arman of Gonoshasthya Nogor Hospital complained about the discount given by the Diagnostic laboratories. The doctors are very reluctant to listen to the advice of not taking any discount. However, it is the consumers who should be educated to go to the right doctor, and to let them know that it is the high priced medicines which are copied and therefore are potentially low quality.
Ziaul Hasan of Community Hospital said it is the doctors who can control the abuse of medicines. He raised the issue of industrial workers' health condition, which is appalling. They are not allowed to drink much water to avoid going to toilet; their nutritional situation is weak. These are important areas which should be noted. Dr. Anisul Awal, Joint Secretary, NIPORT, Ministry of Health and Family Welfare gave a very positive picture of the health situation in terms of reduction of maternal mortality, infant mortality and also talked about provision of safety net for the poor people to receive health services.
Prof.(Dr.) Mesbahuddin Ahmed emphasised on the generic name of the medicines and to implement the National Drug Policy, 1982. The expiry date of the medicine should be written clearly.
S.M. Saikat emphasised on constitution which mentions treatment as a right but not health. Dr. M.A. Sobhan said due to the practice of chemical-based modern agriculture there is zinc deficiency in the soil and then they are suggesting zinc supplementation.
---
Click Here To Print
---
---
Comments Must Be Less Than 5000 Charachter