Farmers Crop Saved by Digging Canal in Group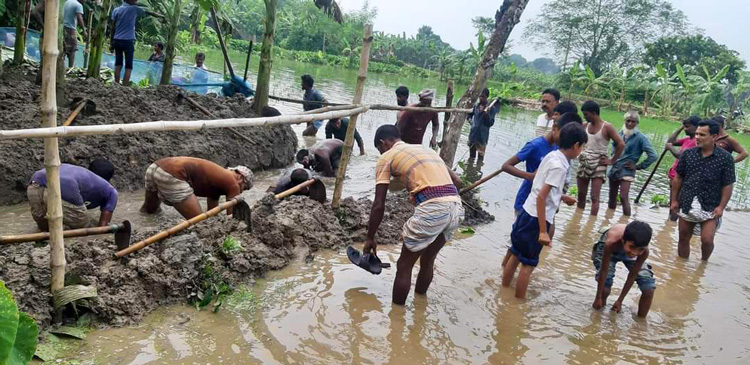 UBINIG || Sunday 25 September 2022 || READ BY SUBJECT:

There was rain continuously from 14-18 September. This rain was expected by the farmers after a long period of drought. Crops in five villages were inundated due to continuous rain for a few days. These villages included Sharutia, Hanul para, Parashidhai, Hatigara and Tongboyra of Atghoria upazila, district Pabna. Hyacinth bean, brinjal, cauli-flower, cabbage, chili, red amaranth were there in the field. The problem of the farmers was not due to rain but because of blockage of drainage.

We could not grow aman paddy this year for for lack of rain in Ashar-Srabon (mid June-mid August), mentioned Nayakrishi farmers, Sadar Ali and Altaf Hossain. The land was lying fallow. We have grown early winter crops with a view to making the loss up from paddy production. Our land in the field is high. There is no reason for water stagnation.

There was a big canal for draining rain water out. Every year, water would drain out through this canal to the Chandrabati River. The canal was flowing over the land of an influential person. He is Abdul Mannan, a brother of the local Chairman. So long rain water would drain out through his canal. He filled the canal with soil for selling the land at high price. We tried to stop the land filling, but in vain. Crops of about 80 bighas (01 bigha=33 decimals) of lands in five villages were inundated.

A discussion meeting of the Nayakrishi and other farmers in these villages was held. The chairman and members of union council were informed of the issue. The Nayakrishi and other farmers together cut the filled canal and managed to drain out water. Thus some crops were saved by draining water out from 130-140 bigha land. Still 40-50 bigha land is remaining submerge under water.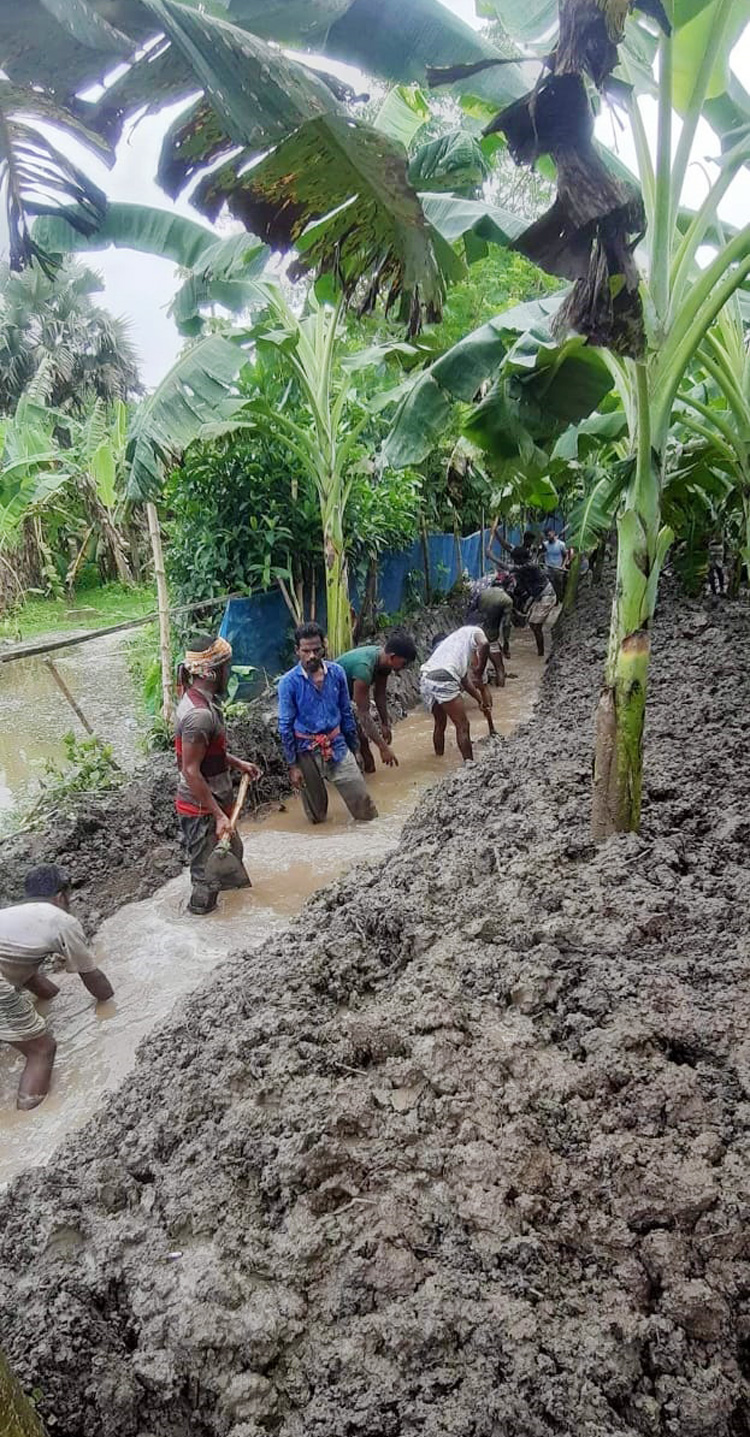 Nayakrishi farmers played pioneering role in this work. This work was made easy for us because of our learning background in Nayakrishi Field School. We have learnt in Nayakrishi Field School that how to solve a problem by working together.
There was water logging in a low land because of the presence of a pond nearly at Shonakandor village in 2021. We the students of Field School, with the cooperation of the union council, cut the bank of the pond and managed to drain out water.
Pakri variety of rice on 25 bigha land was thus saved. Likewise, this time also we saved some crops in the field by cutting canal.
Crops are saved if there is river by the side of the field, mentioned farmers Samsuddin and Momena Begum. Water can be drained out by cutting canal if there is water logging in the field.
Again, water from river may be used for irrigation in case of drought. Crop diversity can also be maintained.
---
Click Here To Print
---
---
Comments Must Be Less Than 5000 Charachter