'Bagary Baingan' on the menu of Modi: Was it Bt. Brinjal?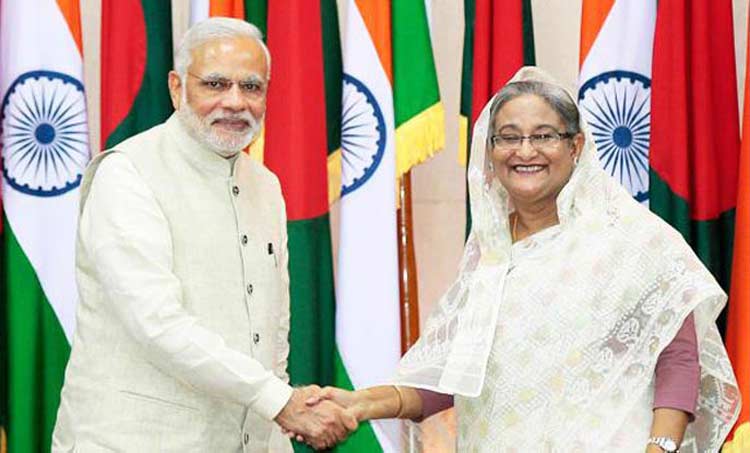 Farida Akhter || Monday 08 June 2015 || READ BY SUBJECT: Btbrinjal & Corporate Politics

Indian Prime Minister Norendra Modi's eventful two-day visit ended on the 7th June, 2015 in Bangladesh. Mr. Prime Minister is a vegetarian and therefore as a host Bangladesh government, particularly Prime Minister Sheikh Hasina herself took special care to select different kinds of vegetarian foods. The Hindustan Times reported on 7 June, 2015 titled "100 veg dishes for Modi" including special daal, khichdi, dhokla and Bangladesh's special sweets. In The NDTV news it was elaborated further, such as for starters, there was a Gujarati speciality - Kaman Dhokla, accompanied with a yoghurt corriander chutney. For main course there were the north Indian favourites like Paneer Butter Masala, Vegetable Shammi Kebabs and Dal Tadka.

The menu also served some Bengali specialties like 'Potol Dolma' (homemade ricotta-filled pointed gourd in a smooth coconut curry) and Khichidi (the Bengali version tempered with mustard seeds and ghee). The Mishti (sweet) sampler for desert has Rasgullas, Mishti Doi and fruits.

In the Bangladeshi media, the menu was given in few Bengali newspapers. Jugantar reported on 7 June, 2015 calling it "elahi bondobosto" – grand arrangement that the Indian Prime Minister's menu included 19 items including Vagareli Khichidi (with Masur Dal and vegetables), Bangladeshi specialties Dalna, Sajna data with mustard, mango chutney, bhendi curry cooked with milk (Modi's favourite), Gujarati specialty khatta Dhokla along with fresh fruits, pithas, payesh, kheer and Sandesh. Bangladesh Prime Minister's office made sure by contacting Delhi and the Dhaka High Commission about the favorite dishes of the very important guest Modi.

Bangladesh has many good vegetables but Bangladeshi Chefs are not very much specialised in making vegetarian dishes. Mixing fish and vegetables is the most common practice. Bengali families use at least a small chingri (shrimp) in the vegetable dish which makes it a non-vegetarian. Unfortunately Indian Prime Minister had to miss fish delicacies of Bangladesh, specially the Hilsa.

However, on the 6th June, there was the BANQUET held in honour of the Indian Prime Minister Norendra Modi, hosted by her Excellency Prime Minister of Bangladesh, Sheikh Hasina at the Grand Ball Room of Pan Pacific Sonargaon Hotel. In the BANQUET, the menu (which is now available online), shows that the main course included Vegetable Shammi Kabab, Panir Butter Masala, Potol Dolma, Bagary Baingan, Dal Tadka accompanied by Hyderabadi Vegetable Biriyani, Kichidi and chapati, naan etc.
---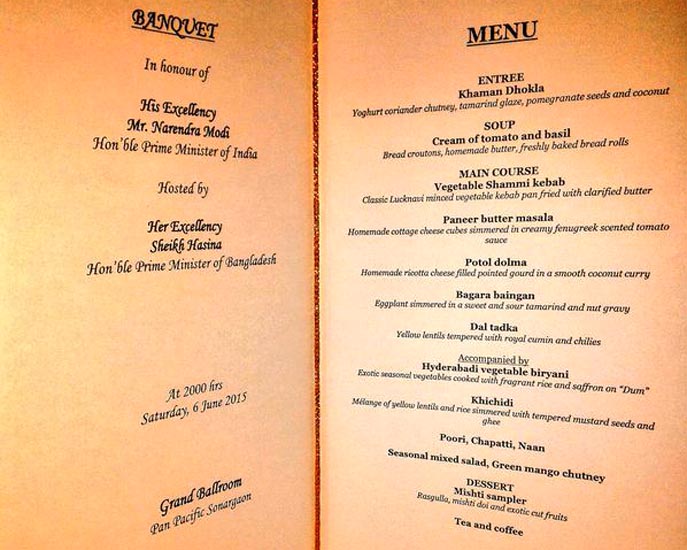 ---
That means, Indian Prime Minister was served with an Eggplant dish (Bagary Baingan). In the menu it is described as "Eggplant simmered in a sweet and sour tamarind and nut gravy". It must be a delicious curry.
---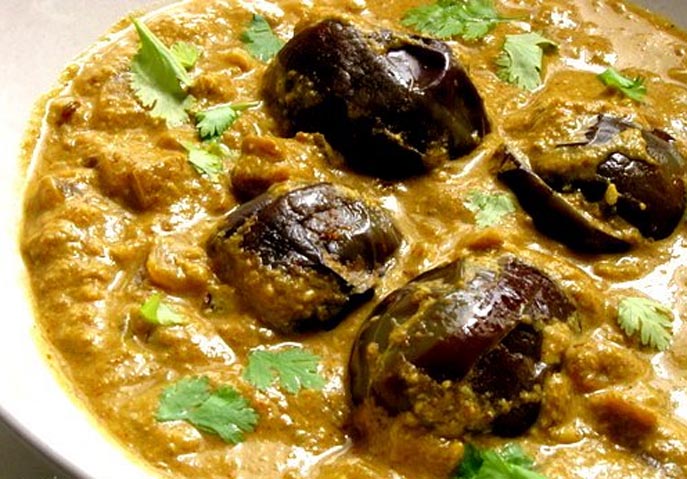 ---
The question is whether this eggplant was a local variety, bought from the market of Dhaka or brought from India? If it was from Dhaka, then the Agriculture Minister Begum Matia Chowdhury had the opportunity to supply one of the nine varieties of Bt. Brinjal that are now supposed to be in the market. Even if those are not labeled, the Agriculture Minister could have made special efforts to bring the Bt. Brinjal directly from the fields of the 108 selected farmers cultivating in the second round and claiming to be successful! It would have been "safe" according to her because "no pesticide" is used, although the field information show that several brands of pesticides had to be used for disease attacks on leaves and stems etc.
If for any reason, Bt. Brinjal was not part of the BANQUET menu hosted by the Prime Minister of Bangladesh Sheikh Hasina, then several questions come to mind. Was it because Bt. Brinjal is transgenic – a bacteriial gene inserted vegetable? If so, then perhaps labeling of genetically modified baigans (eggplants) is even more necessary to state that normal brinjals can be consumed by vegetarians but not the Bt. Brinjals. If it is not a problem for the vegetarians, the Indian Prime Minister would have been happy to have such a dish made with Bt. Brinjal which is actually linked to an Indian Company MAHYCO, although it could not be cultivated in India because of the moratorium. On the contrary, Prime Minister Sheikh Hasina recently (20th May, 2015) was honored with the citation in recognition of "her overwhelming contribution to the development of agriculture sector and ensuring food security in Bangladesh" by the Cornell University of the United States. Actually she was honored because she allowed Bt. Brinjal, a genetically modified food crop, amid protests and concerns expressed by farmers groups, environmentalists and health activists. Prime Minister Sheikh Hasina thanked the Cornell University for innovation of the BT Brinjal. It is already known that Monsanto in collaboration with Cornell University, decoded the genome sequence of BT Brinjal, and allowed Bangladesh Agriculture Research Institute to use the technology through its subsidiary MAHYCO in India. So it was an excellent opportunity for both the Prime Minister and the Agricultural Minister of Bangladesh to offer cooked Bt. Brinjal as 'Bagara Baigan' to show both the culinary and scientific the performance of this genetically modified vegetable.
It seems, 'Bagary Baigan' was not cooked with a Bt. Brinjal. If not, then we do not need any more proof that Bt. Brinjal health hazards are still unknown and therefore, Mr. Modi was not put under risk.
That's certainly a very wise idea not to create any health hazard for the visiting Indian Prime Minister. However, it reaffirms the apprehensions of the opponents of Bt. Brinjal, who have expressed concerns about health, environmental and biosafety concerns of BT. Brinjal cultivation in Bangladesh.
---
Click Here To Print
---
---
Comments Must Be Less Than 5000 Charachter