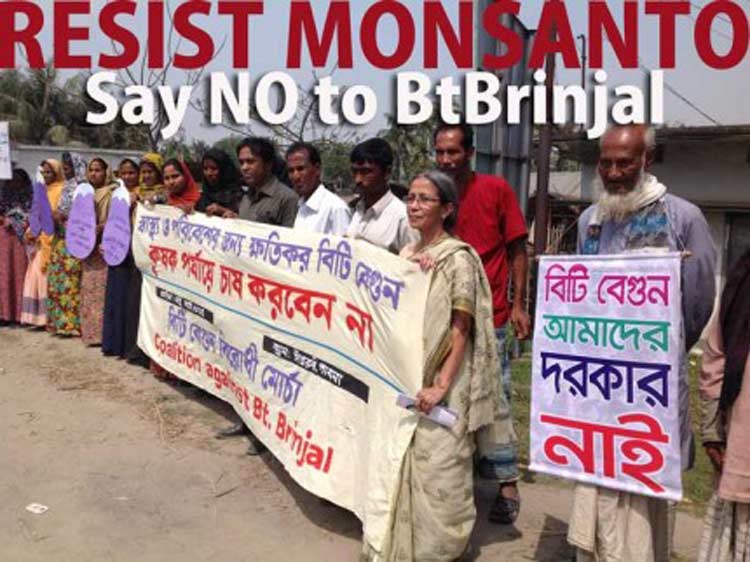 UBINIG and Nayakrishi Andolon are organising two rallies on 20th May, 2017 on the occasion of the Global March Against Monsanto, 2017 at the village level in two districts, Tangail and Pabna in Bangladesh. Nayakrishi farmers, practising ecological farming and preserving local varieties rice, vegetables, pulses, oilseeds, fruits and other inbdigenous crops are concerned about the threats of genetic intervention threatening the foundation of Bangladesh agriculture.
Negative impacts of GMOSs on biodiversity, human health and the rights of small famers are now well recognised. Nevertheless, Bt Brinjal, a genetically modified food crop, has already been released for field cultivation since 2014 and is being continued despite failures of the crops and farmers economic losses. Nayakrishi farmers have composed songs against the harmful effects of GM crops and also narrating the story of the legal opinion of Monsanto Tribunal that that Monsanto's activities undermine basic human rights, need for better protective regulations for the victims of multinational corporations and appeal to international courts to recognize ecocide as a crime.
The events will be held at 10 am Bangladesh time.
Location in Tangail: Silimpur Bazar, Pathrail Union, Delduar, Tangail.
Location in Pabna: Village Tong Boira, Chandbha Union, Atghoria Upazilla, Pabna.
PLEASE JOIN US & EXTEND YOUR SUPPORT
---
For Print Click Here
---
---
Comments Must Be Less Than 5000 Charachter