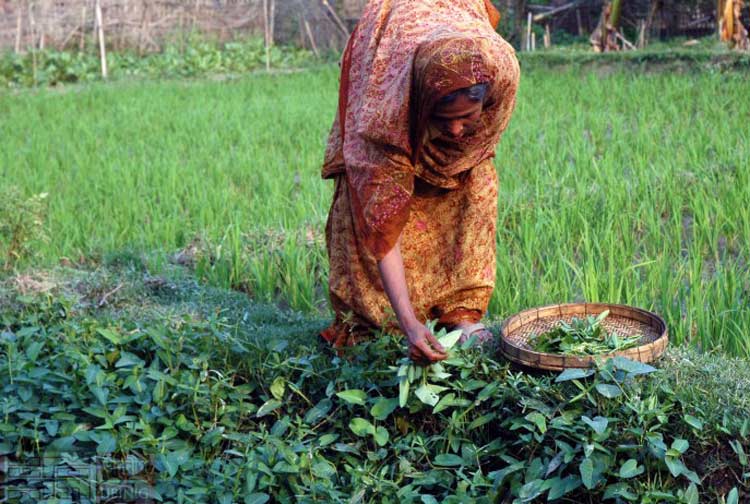 Marzina Begum (39) is a farmer, Bantial village of Sirajgonj district. She has seven members in the family with husband, a farmer; two daughters and three sons.
During flood in 2007 she had moved with her whole family in the Community Seed Wealth Center at Bantiar. This Seed Wealth Center was established by UBINIG, a private policy research organization in Bangladesh. The Seed Wealth Center is a common place for seed storage at community level.
Marzina moved along with her 5 kids, seeds, cows and goats. Their home is about 700 yards away from the Community Seed Wealth Center. Their homestead area went under water due to the flood.
Marjina narrated her plight. She mentioned that her husband had no work for last 15 days since the flood came. All means of livelihood were suspended. In the mean time they had sold a goat and two cocks for money to buy food. They had moved here 2 days ago for shelter and save their seeds.
They had carried here seeds including 35 kg black gram, 20 kg sesame, 14 kg mustard, 23 kg paddy, and 8 varieties of vegetable seeds for conservation in Community Seed Wealth Center.
Marjina was interviewed after the flood. She was very happy for conserving seeds in the Community Seed Wealth Center. She informed us that Community Wealth Center was of great help for her family.
After recession of flood water from their field they planted vegetables and mustard seeds in their field those were kept in the Seed Wealth Center.
After harvesting vegetables and mustard they planted boro rice.
Marjina and Rahimuddin said "if we had not got these help from Seed wealth center we would be bound to sell our all the seeds. For buying seeds we would have to borrow money from the moneylender in high interest.
So we would be exposed to very hard time and be compelled to sell the piece of land for recovery from the flood damage.
The Community seed wealth center was really very useful for reducing flood damage and also building our capacity for going back in normal life".
---
Click Here To Print
---
---
Comments Must Be Less Than 5000 Charachter