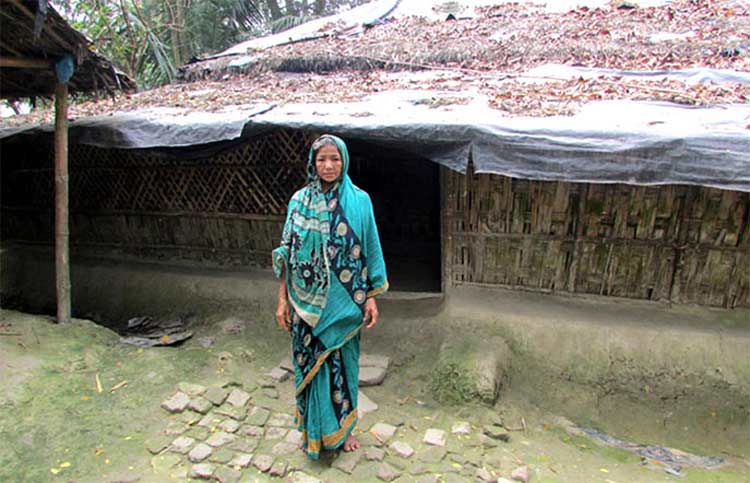 Jahanara Begum Krisnapur village received food support
Emergency Support to Flood Affected People. Period: August December 2015; Supported By: Primate's World Relief & Development Fund
Jahanara Begum (52), is a poor widow of village Dakhin Krishnapur. Her husband died four years ago. Her eldest daughter was married recently. During the flood, she was living with one son and four daughters. The only earning member of the family was her son who is a daily wage worker. His income is too small to run the family. They pass their time with great hardship.
Under these circumstances, the flood during June-July, 2015 was a serious blow to their life and livelihood as they did not any savings to buy food. "Not a single house in the village was saved from the flood. There was flood for five times. Of these, there was water up to my roof top in two times. That time I took shelter in one of my relatives house at Bahaddar Kata"; Jahanara reported.
Her son did not have any work due to the flood. The family survived on chick pea, and puffed rice purchased on credit from a grocery known to them. Thus the family is now under big burden of debt.
"We lived only on meal of rice in a day for about 10-12 days before receiving relief from the Daighor. My elder daughter came to visit me with 3kg rice and four eggs after the flood water had receded. My elder daughter, son-in-law and grand daughter were in my residence when I received the relief from the Daighor. I could offer them rice for four days. It was only possible because I had received the relief from the Daighor. I ate square meals and appreciated for the food support".
"I was very happy to receive the relief. I have no asset, so I am happy for anything I get. You help us because you feel for us. May Allah bless you so."
---
Click Here To Print
---
---
Comments Must Be Less Than 5000 Charachter