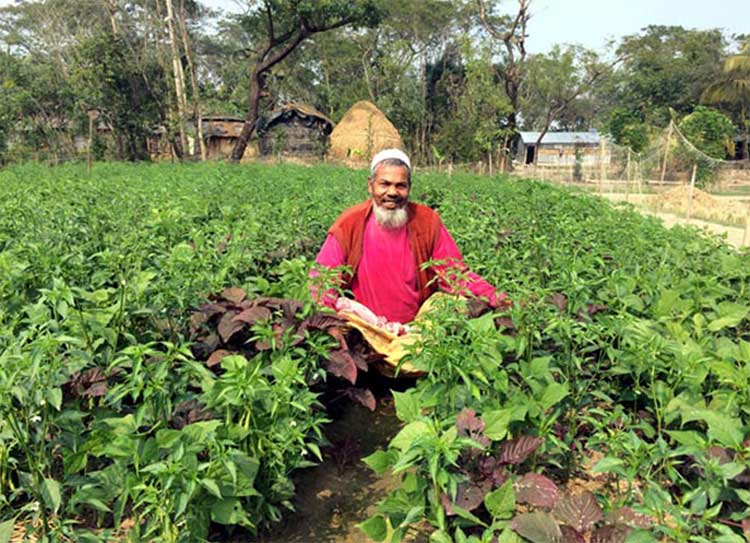 Mix Crop field. Chili, Amaranthas, Frech Bean in Krishnapur. Farmer Oziullah happy to see his yeild.
Emergency Support to Flood Affected People. Period: August December 2015; Supported By: Primate's World Relief & Development Fund
Waziullah (60), village: Uttar Krishnapur, is a farmer. He is the head of a family of nine members including his wife, 4 sons and 3 daughters-in-Law. He owns a homestead of 60 decimals and cultivated land of 80 decimals. This year he has crops on 180 decimals including 80 decimals of leased in land and 80 decimals of his own land. He has grown Boro rice and vegetables.
In addition to raising crops in the field, he has also grown vegetables and fruits in the homestead including common bean, water gourd, papaya, banana, plum, mango, jackfruit, goat, chicken, duck, etc. reared in the homestead area.
Krishnapur village was inundated five times due to flood during June-July, 2015. Household belongings and seeds (French bean, mustard, string bean kidney bean, paddy, okra, chili and brinjal seeds) were damaged. Even the standing crops in the field were damaged due to five times flood. Seed bed of common bean, okra, snake gourd, Indian spinach, four varieties of rice (BR-10, BR-21, BRRI dhan 33 and Sada Binni) were damaged.
Land was water logged for long time. It took about two months for recession of water. "Under these circumstances, I was deeply concerned about my future plan for crop production. I shared my concern with the staff members of UBINIG for shortage of seeds." – Waziullah said.
Waziullah also added, " This is because the seed from market is not dependable. In most cases the seeds do not germinate. Moreover, the seeds from market are very costly."
"The staff members of Daighors frequently visitd us in the village and indicate for seed support if needed. In last November, I received seeds of French bean, okra, red amaranth sweet gourd, from the Daighor run by UBINIG. I cultivated these crops in mixed culture".
In spite of the damage of the flood, the soil fertility was enriched with siltation. There was better yield of crops including french bean, potato, chili, sweet gourd, string beans, etc. In addition to my own consumption of red amaranth, radish, coriander leaf, sweet gourd, I have also sold vegetables worth of BDT 8000 in the market - – Waziullah said. More crops are there in the field in bearing stages and being ready for market. I shall also maintain seed for next years' cultivation. I shall share seed with neighbors and keep a portion of sands in Daighor.
"I was much benefitted with the seeds I received from UBINIG. Seed is the strength of the famer. The farmers become weak when seed is not in their hands. Seed is the most precious asset for us" – Waziullah said.
---
Click Here To Print
---
---
Comments Must Be Less Than 5000 Charachter